Time to Up Your Serving Size of International Small Caps
---
August 24, 2023
Buffets are making a comeback post-COVID, and it's important to analyze how investors are currently filling their plates from a portfolio construction perspective. Investors tend to load up with a mix of domestic equities and fixed income instruments, while international securities are often thought of as a side dish or omitted altogether. This underweight exposure to international equities more broadly often increases down the market cap spectrum – especially when working within the parameters of a traditional 60/40 portfolio allocation. This sentiment is not shared with domestic small/mid-cap counterparts, as investors historically made allocations to this asset class while passing over international small/mid-caps in the buffet line.
On average over the last 20 years, 23% of assets in U.S. style box funds & ETFs have been allocated to small/mid-caps. Over that same period only 6% of assets on average in foreign style box strategies have been allocated to small/mid-caps.

Source: Morningstar.
US Large vs US Small/Mid include the following Morningstar Categories: Large Growth, Large Blend, Large Value, Mid Growth, Mid Blend, Mid Value, Small Growth, Small Blend, and Small Value.
Foreign Large vs Foreign Small/Mid include the following Morningstar Categories: Foreign Large Growth, Foreign Large Blend, Foreign Large Value, Foreign Small/Mid Growth, Foreign Small/Mid Blend, Foreign Small/Mid Value.
Rather than thinking of small caps as a garnish on your international equity allocation, we believe that this potentially valuable and financially attractive asset class deserves more space on the plate. Since inception of the MSCI EAFE Small Cap Index in 2001, EAFE Small Caps have outperformed EAFE Large Caps in 86% of rolling 5-year periods, computed quarterly.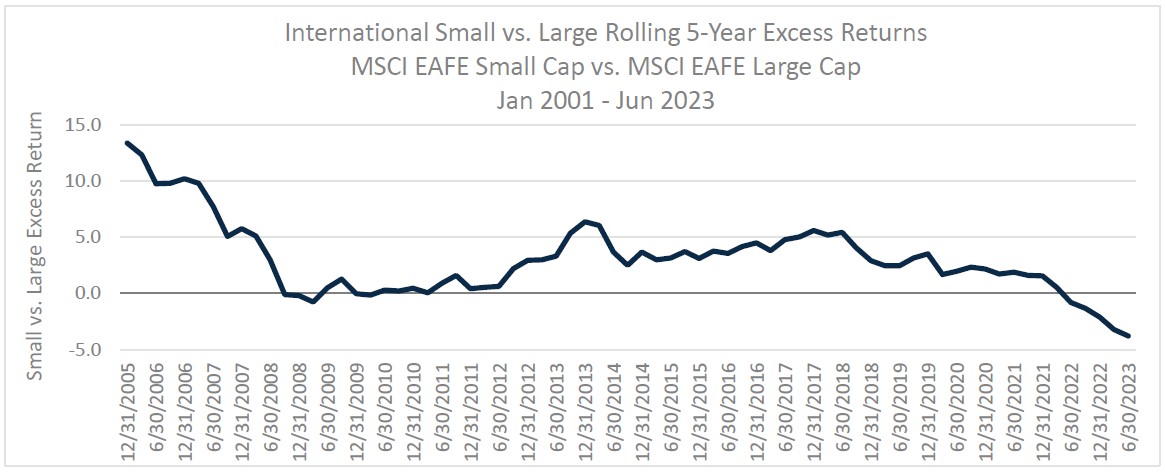 Source: Morningstar as of June 2023.
Performance data shown represents past performance and is no guarantee of future results.
For Illustrative purposes only. This information should not be considered as a recommendation to purchase or sell a particular security.
While thinking of the seemingly endless ways to plate and create an investment portfolio, it is our view that international small caps can bring distinct flavors to the table. The large universe of the asset class offers more tasting options while its historic outperformance relative to large cap peers can potentially create a greater appetite for increasing your serving size. To read more about some of the returning diversification benefits of overseas markets, take a look at the article: Revisiting the Potential Diversification Benefits of Investing Internationally.
Important Information
The views expressed herein may not be reflective of current opinions, are subject to change without prior notice, and should not be considered investment advice.
Past performance is no guarantee of future results.
All investments involve risk including the possible loss of principal. Stock prices can fall because of weakness in the broad market, a particular industry, or specific holdings. At times, a growth investing style may be out of favor with investors which could cause growth securities to underperform value or other equity securities. Foreign securities may be subject to greater risks than investing only in the U.S. These risks are more severe for securities of issuers in emerging market region and may be more volatile and less liquid due to currency fluctuation, political instability, government sanctions, social and economic risks. Foreign currencies can decline in value and can adversely affect the dollar value of an investment. Investing entails risks and there can be no assurance that any investment will achieve profits or avoid incurring losses.
The MSCI EAFE Large Cap Index is an equity index which captures large cap representation across developed markets countries around the world, excluding the US and Canada. With 335 constituents, the index covers approximately 70% of the free float- adjusted market capitalization in each country. The MSCI EAFE Small Cap Index is an equity index which captures small cap representation across developed markets countries around the world, excluding the US and Canada. These unmanaged indices do not reflect fees and expenses and are not available for direct investment.
In relation to any data attributed to Morningstar, please note the following: © Morningstar 2023. All rights reserved. Use of this content requires expert knowledge. It is to be used by specialist institutions only. The information contained herein: (1) is proprietary to Morningstar and/or its content providers; (2) may not be copied, adapted or distributed; and (3) is not warranted to be accurate, complete or timely. Neither Morningstar nor its content providers are responsible for any damages or losses arising from any use of this information, except where such damages or losses cannot be limited or excluded by law in your jurisdiction. Past financial performance is no guarantee of future results.
This material may reference countries which may be generally the subject of selective sanctions programs administered. Readers of this commentary are solely responsible for ensuring that their investment activities in relation to any sanctioned country are carried out in compliance with applicable laws, rules or policies.
Diversification does not assure a profit or protect against loss in a declining market.
3075100
---
Locate Your Harbor Consultant
INSTITUTIONAL INVESTORS ONLY: Please enter your zip code to locate an Investment Consultant.