Harbor International Small Cap Fund Seeks to Help Navigate International Waters
---
August 23, 2023
It is our view that International Small Cap has the potential to be well positioned for the road ahead given the cyclical nature of the asset class' returns and low to no correlation with Large Cap indices. International markets also tend to be a fertile area for active managers, and we believe that to be the case in the future as the universe of companies is relatively large while current valuations are historically low. However, not all products are created equal, and we believe the Harbor International Small Cap Fund (Ticker: HAISX) has the potential to provide a compelling solution to investors who are looking for exposure to the International Small Cap arena.
The average rolling 1 year return rank for the MSCI EAFE Small Cap Index has been 48.8% over the last 20 years, meaning that nearly half of active foreign small cap managers have outperformed the index over time.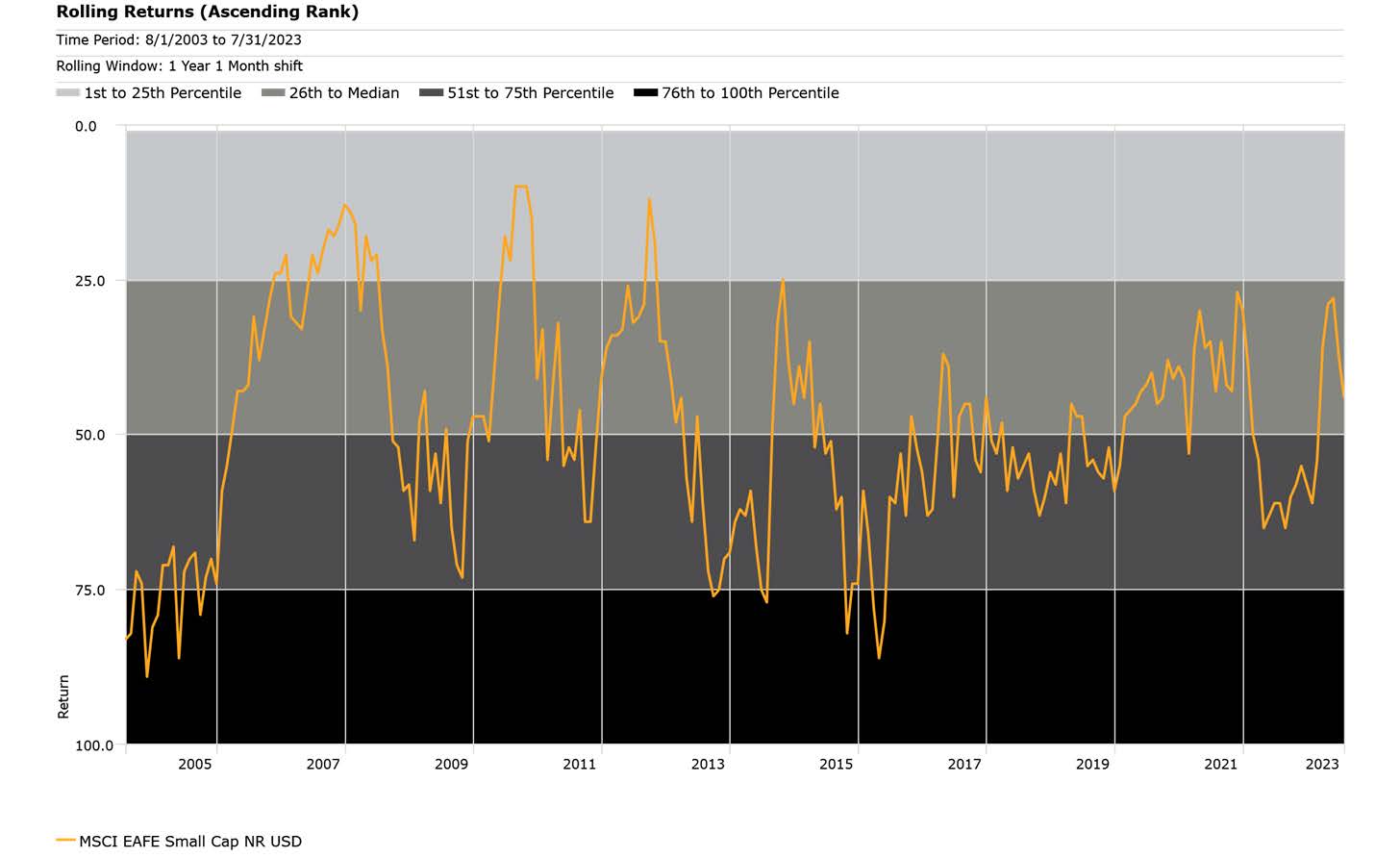 Source: Morningstar Direct. Chart displays the return of the MSCI EAFE Small Cap Index relative to all the funds/ETFs in the group of Morningstar categories listed. Morningstar Category Peer groups consists of active Foreign Small/Mid Growth, Foreign Small/Mid Blend, and Foreign Small/Mid Value mutual funds and ETFs.
Note the charts display a group of Morningstar categories over an extended period of time (20 years) and the number of managers will vary on a monthly basis. The highest (or most favorable) percentile rank is 1 and the lowest (or least favorable) percentile rank is 100.
Performance data shown represents past performance and is no guarantee of future results.
As noted above, there are plenty of managers who are able to outperform in international small cap markets. With that in mind, the question should not be "Why active management?" but rather "Which manager should I choose?". At Harbor, we're dedicated to finding true masters of their craft and believe our dedicated partners at Cedar Street Asset Management fit that bill.
Subadvised by Cedar Street Asset Management LLC ("Cedar Street"), The Harbor International Small Cap Fund is managed using a disciplined and consistent value investment philosophy.
Cedar Street is an investment boutique focused exclusively on international small cap investing; this is not a product line extension for the firm.
Cedar Street's investment process narrows the Non-U.S. Small Cap Universe down to 50-70 positions only after thoroughly evaluating the downside potential and conducting upside analysis—employing both quantitative and qualitative approaches.
This has led the managers of the fund to receive the receiving the following industry recognition: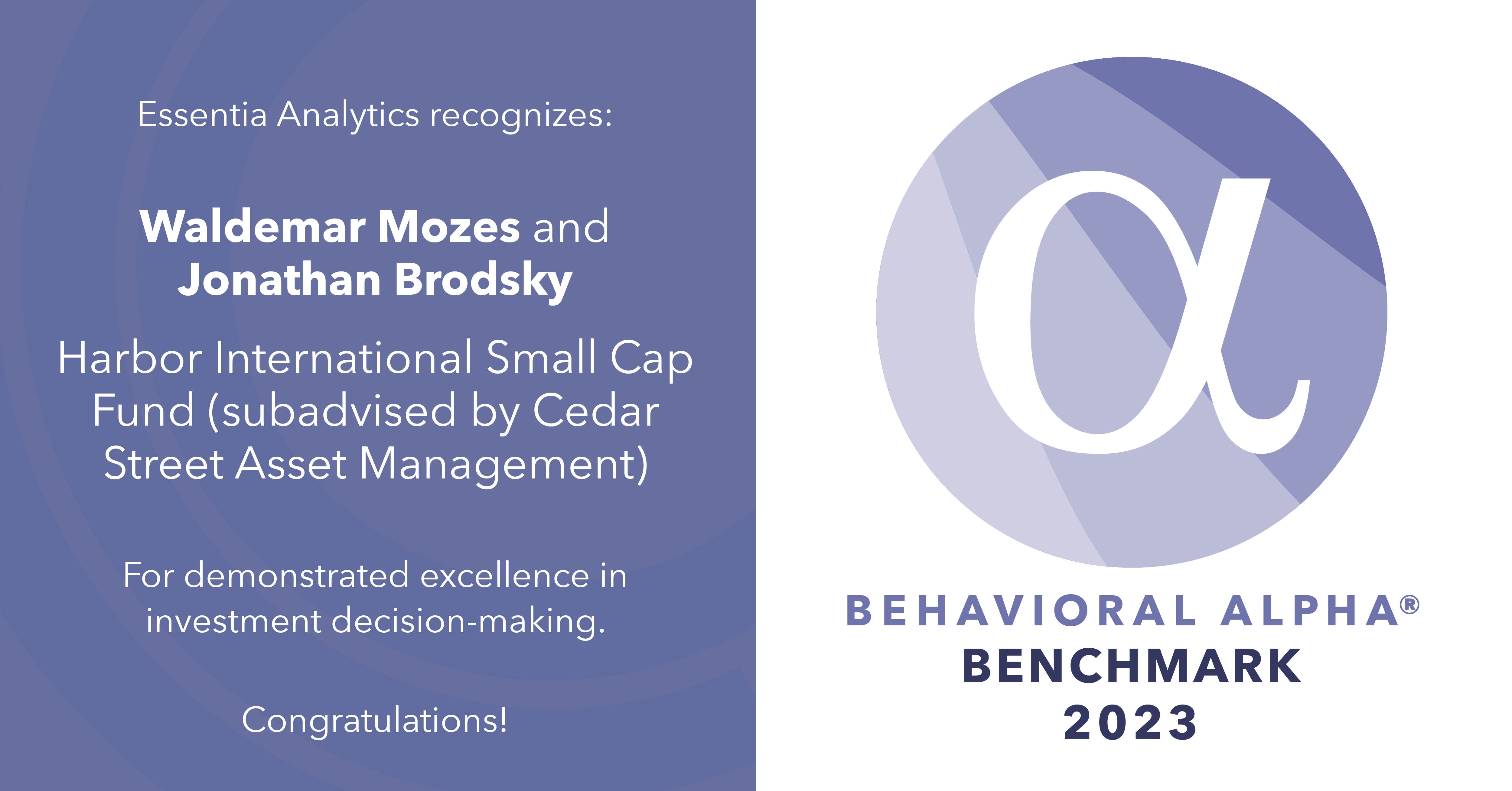 We believe the Harbor International Small Cap Fund presents a distinct opportunity to access an asset class that may be poised for strong outcomes given current market conditions. It is our view that Cedar Street's history as a sound manager within non-U.S. markets creates a possible solution that has the potential to produce compelling, risk-adjusted returns. Take a look at Harbor's International Small Cap product page to learn more or reach out to a Harbor representative.
Important Information
There is no guarantee that the investment objective of the Fund will be achieved. Stock markets are volatile and equity values can decline significantly in response to adverse issuer, political, regulatory, market and economic conditions. Investing in international and emerging markets poses special risks, including potentially greater price volatility due to social, political and economic factors, as well as currency exchange rate fluctuations. These risks are more severe for securities of issuers in emerging market regions. Stocks of small cap companies pose special risks, including possible illiquidity and greater price volatility than stocks of larger, more established companies.
The MSCI EAFE Small Cap Index is an equity index which captures small cap representation across developed markets countries around the world, excluding the US and Canada. This unmanaged index does not reflect fees and expenses and is not available for direct investment.
This material may reference countries which may be generally the subject of selective sanctions programs administered. Readers of this commentary are solely responsible for ensuring that their investment activities in relation to any sanctioned country are carried out in compliance with applicable laws, rules or policies.
In relation to any data attributed to Morningstar, please note the following: © Morningstar 2023. All rights reserved. Use of this content requires expert knowledge. It is to be used by specialist institutions only. The information contained herein: (1) is proprietary to Morningstar and/or its content providers; (2) may not be copied, adapted or distributed; and (3) is not warranted to be accurate, complete or timely. Neither Morningstar nor its content providers are responsible for any damages or losses arising from any use of this information, except where such damages or losses cannot be limited or excluded by law in your jurisdiction. Past financial performance is no guarantee of future results.
The Essentia Analytics "Top 5" Behavioral Alpha Award is conferred annually at each calendar year-end; with interim rankings computed each quarter – most currently, the quarter ended June 30, 2023. Methodology: The analysis measured the demonstrated skill of 85 portfolio managers in seven key decision types: stock picking, entry timing, sizing, scaling in, size adjusting, scaling out and exit timing. We isolated each decision type and measured its impact on the portfolio using decision attribution analysis techniques we have developed in conjunction with our clients over the past nine years. Managers were scored on an Essentia Behavioral Alpha Frontier (EBAF) that considers the hit rate (percentage of decisions that added value) and payoff (the ratio of value added by the average good decision to the value destroyed by the average bad decision) for each decision type. The five managers with the highest aggregate scores across all decision types are recognized as top performers in the Behavioral Alpha Benchmark ranking. For complete methodology: https://www.essentia-analytics.com/product/behavioral-alpha-benchmark/
The views expressed herein may not be reflective of current opinions, are subject to change without prior notice, and should not be considered investment advice.
3083700
---
Locate Your Harbor Consultant
INSTITUTIONAL INVESTORS ONLY: Please enter your zip code to locate an Investment Consultant.