Harbor International Small Cap Fund: A Big Fish in a Little Pond
---
July 26, 2023
The Harbor International Small Cap Fund, subadvised by Cedar Street Asset Management, is managed with a disciplined and steadfast, traditional or classic value investment philosophy. With many years of experience investing in this asset class, Cedar Street's investment team developed its track record with a concentration on the non-U.S. small cap value equity universe. Its multicultural, cross-disciplinary analyst team possesses local market knowledge and timely insights, while its high-alpha, bottom-up approach focuses on quality business fundamentals, all of which contribute to its expertise in this focused space.
That said, we believe Cedar Street's commitment to quality in both its operations and investing sets it apart in what is an already-shrinking competitor pool in recent years. In the cosmos of foreign small- and mid-cap (SMID) mutual funds and ETFs, while the number of growth options have remained relatively stable over the last decade, value-oriented offerings have declined from a high of 33 in 2016 to 28 at the end of 2022.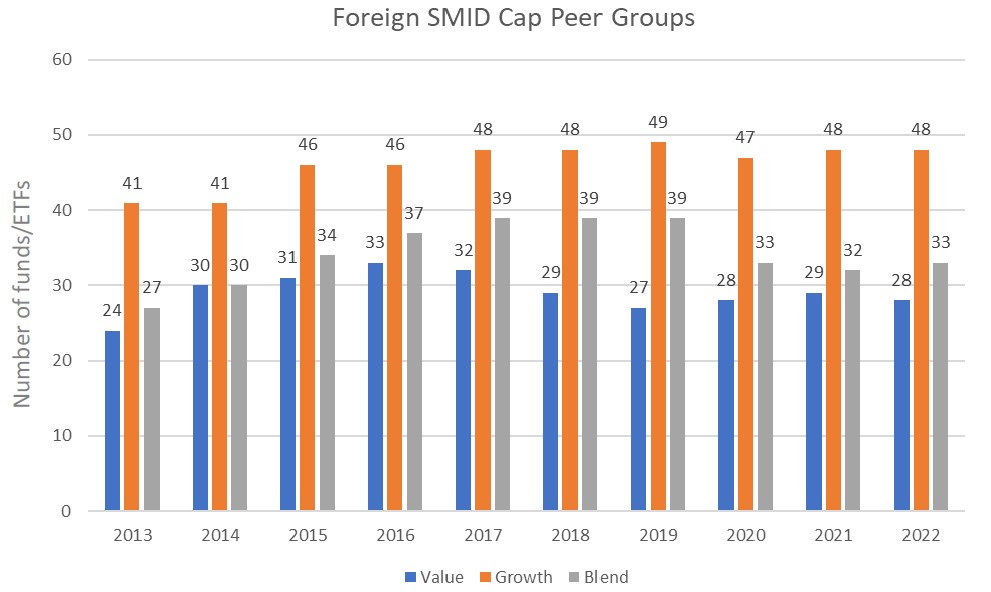 Source: Morningstar Direct SMID stands for small- and mid-cap categories, as designated by Morningstar. Foreign Small/Mid includes the following Morningstar Categories: Foreign Small/Mid Growth, Foreign Small/Mid Blend, Foreign Small/Mid Value and represents all funds and ETFs categorized as such by Morningstar.
Notably, these 28 value funds make up only about a quarter of the total foreign SMID universe.
Importantly, non-U.S. small caps afford the potential for diversification benefits, higher return dispersion, and a large and inefficient universe. We believe these characteristics position active managers well, and we point to Cedar Street as an attractive option. To learn more about the Harbor International Small Cap Fund, please visit our website.
Important Information
There is no guarantee that the investment objective of the Fund will be achieved. Stock markets are volatile and equity values can decline significantly in response to adverse issuer, political, regulatory, market and economic conditions. Investing in international and emerging markets poses special risks, including potentially greater price volatility due to social, political and economic factors, as well as currency exchange rate fluctuations. These risks are more severe for securities of issuers in emerging market regions. Stocks of small cap companies pose special risks, including possible illiquidity and greater price volatility than stocks of larger, more established companies.
Diversification does not assure a profit or protect against loss in a declining market.
Alpha is used in finance as a measure of performance, indicating when a strategy, trader, or portfolio manager has managed to beat the market return or other benchmark over some period.
The views expressed herein may not be reflective of current opinions, are subject to change without prior notice, and should not be considered investment advice or recommendation to purchase or sell a particular security.
3027246
---
Locate Your Harbor Consultant
INSTITUTIONAL INVESTORS ONLY: Please enter your zip code to locate an Investment Consultant.