Dividend Growth Investing - Whenever, Wherever
---
August 24, 2023
In the best of times and the worst of times, we point to dividend growers as an attractive option given their resiliency across a range of macro environments. Previously, periods with rising interest rates have provided a favorable backdrop for dividend growers relative to the overall market and dividend yield stocks.
Seek Dividend Growers, Not Yielders
Correlation of monthly total returns for S&P 500 top decile factors* vs. changes in 10-year Treasury yields, 1986-06/2023.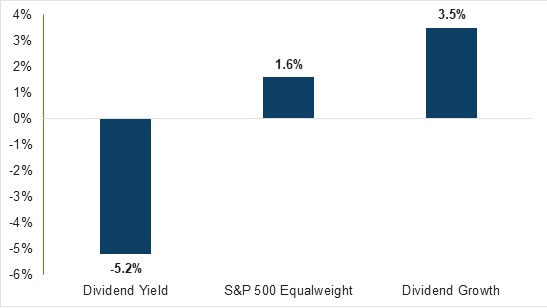 Performance data shown represents past performance and is no guarantee of future results.
Source: Bloomberg, BofA US Equity & US Quant Strategy.
*Top decile factors for Div Yield are highest dividend yielders within the S&P 500. Top decile factors for Div Growth are fastest dividend growers within the S&P 500.
That said, top decile dividend growth companies have historically performed well during a variety of phases of the market cycle, with the only exception being the initial rebound phase.
Market Cycle Returns of High Dividend Growth & Free Cash Flow
Returns Relative from 1990-2023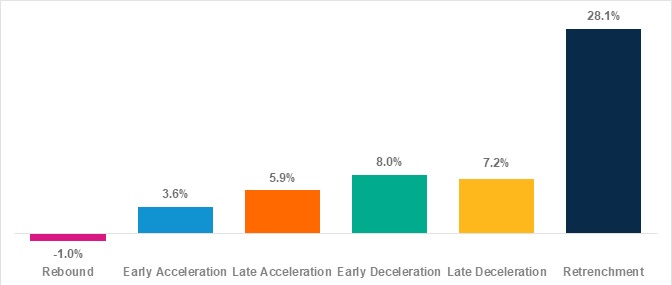 Sources: Wolfe Research Portfolio Strategy; Company filings; Bloomberg; Standard & Poor's; FactSet Research Systems.
Past performance is no guarantee of future results. For illustrative purposes only. Universe is largest 1,000 market cap companies ex Financials and Real Estate. Includes companies that are in the top 20% relative to sector for both dividend growth (in the last twelve months) and free cash flow yield. Dividend Growth & Free Cash Flow Yield on a sector neutral basis. Market cycle returns have been annualized. Returns time periods are 1990-6/30/2023.
In our view, the consistent performance characteristics of these types of top-decile companies may make strategies that hold them attractive for a core allocation in portfolios. Companies that have a historical record of regularly increasing their dividends may prove more resilient to periods of economic weakness. Conversely, companies that can increase dividend payments faster than the overall rate of inflation may help investors to maintain purchasing power amidst high inflationary environments. In this way, dividend growth investing has the potential to serve as a strong allocation choice across a range of macroeconomic backdrops, in our estimation.
Important Information
The views expressed herein may not be reflective of current opinions, are subject to change without prior notice, and should not be considered investment advice or a recommendation to purchase or sell a particular security.
Investing entails risk and there can be no assurance that any investment will achieve profits or avoid incurring losses. There is no guarantee any company or investing strategy will pay dividends.
All investments involve risk including the possible loss of principal. Stock prices can fall because of weakness in the broad market, a particular industry, or specific holdings.
The S&P 500 Index is an unmanaged index generally representative of the U.S. market for large capitalization equities. This unmanaged index does not reflect fees and expenses and is not available for direct investment.
3068823
---
Locate Your Harbor Consultant
INSTITUTIONAL INVESTORS ONLY: Please enter your zip code to locate an Investment Consultant.