3 Harbor ETFs: Returns We Believe Worth Noting in January 2023
---
February 17, 2023
Despite the cloudy economic outlook, markets started the new year on a high note.
Even as the broader market has demonstrated solid performance to start 2023, thematic and active ETFs are outperforming, as we believe security selection continues to play a more significant role in generating returns than it had in the decade following the global financial crisis.
Three Harbor ETFs stood out for positive performance last month, as the Harbor Disruptive Innovative ETF (INNO), the Harbor Long-Term Growers ETF (WINN), and the Harbor Corporate Culture Leaders ETF (HAPY), each returned over 10% (NAV) in January.
Last month, INNO, WINN, and HAPY each outperformed broader markets, as measured by the S&P 500, which climbed 6.28% on a total return basis, marking its best January since 2019.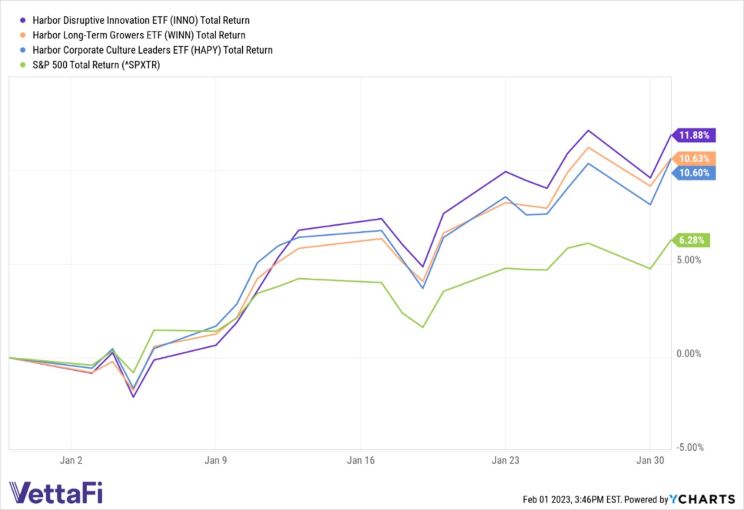 INNO was Harbor's top-performing ETF in January, as it returned 11.88% during the month. Throughout the same period, WINN increased 10.63% and HAPY gained 10.60%, according to our ETF Database. For updated standardized performance and additional information on these ETFs, please access the latest information here: INNO, WINN, and HAPY.
INNO is an active multi-strategy ETF with a differentiated approach to accessing disruptive innovation. INNO leverages the investment experience of specialized managers and places portfolio construction and risk management front and center.
INNO allocates across five different active managers with compelling investment styles, offering philosophical, style, and sector diversification, as well as quality security selection.
Harbor is responsible for INNO's portfolio construction and risk management with the goal of maximizing the diversification benefits of the underlying managers and minimizing concentrated factor exposures.
WINN is actively managed and seeks long-term growth of capital by investing in large-and mid-capitalization companies, primarily in the U.S., that have compelling prospects for long-term growth and seeks to generate strong returns for shareholders. WINN's investment strategy seeks to exploit market inefficiencies by investing in companies with under-appreciated multi-year structural growth opportunities, an opportunity exclusively available to active managers.
Thematic equity fund HAPY is built around the "Human Capital Factor," a distinctive investment factor developed by subadvisor Irrational Capital. The Human Capital Factor seeks to enable a strong, systematic assessment of a company's corporate culture and its link to potential future equity performance. As of December 2022, Irrational Capital's full dataset includes both public and proprietary sources, covering over 2,200 public firms, and 10 million employee responses totaling 500 million data points, according to Harbor.
The three Harbor ETFs each charge a gross expense ratio between 50 and 75 basis points.
For more news, information, and analysis, visit the Market Insights Channel.
For more information, please access our website at www.harborcapital.com or contact us at 1-866-313-5549.
Important Information
Performance data shown represents past performance and is no guarantee of future results. Past performance is net of management fees and expenses and reflects reinvested dividends and distributions. Past performance reflects the beneficial effect of any expense waivers or reimbursements, without which returns would have been lower. Investment returns and principal value will fluctuate and when redeemed may be worth more or less than their original cost. Returns for periods less than one year are not annualized. Current performance may be higher or lower and is available through the most recent month end at harborcapital.com or by calling 800-422-1050.
All investments involve risk including the possible loss of principal. Please refer to the Fund's prospectus for additional risks associated with the Fund. For the Fund's prospectus and most current standardized performance, please click: INNO, WINN, HAPY
The S&P 500 Index is an unmanaged index generally representative of the U.S. market for large capitalization equities. This unmanaged index does not reflect fees and expenses and is not available for direct investment.
Diversification does not assure a profit or protect against loss in a declining market.
A basis point is one hundredth of 1 percentage point.
Jennison Associates LLC is an independent subadvisor to the Harbor Long-Term Growers ETF. The Fund is managed by Harbor Capital Advisors, Inc.
Irrational Capital LLC is a third-party index provider to the Harbor Corporate Culture Leaders ETF. The Fund is managed by Harbor Capital Advisors, Inc.
This article was prepared as Harbor Funds paid sponsorship with VettaFI.
2746584
---
Locate Your Harbor Consultant
INSTITUTIONAL INVESTORS ONLY: Please enter your zip code to locate an Investment Consultant.