HGER as a Strategic Allocation
---
May 01, 2023
Over the last year ending 3/31/2023, the Harbor Commodity All-Weather Strategy ETF (HGER), which seeks to provide investment results that closely correspond, before fees and expenses, to the performance of the Quantix Commodity Index, outperformed the Bloomberg Commodity Index by 1000bps, at a lower overall risk profile.

Also, over the last year ending 3/31/2023, we believe incorporating a 5% allocation of HGER to a traditional 60/40 portfolio (taking from equities), would have resulted in enhanced returns, as well as lower risk. The far-right bars of the chart below shows the potential outcome for the time period, with this allocation, using the Quantix Commodity Index.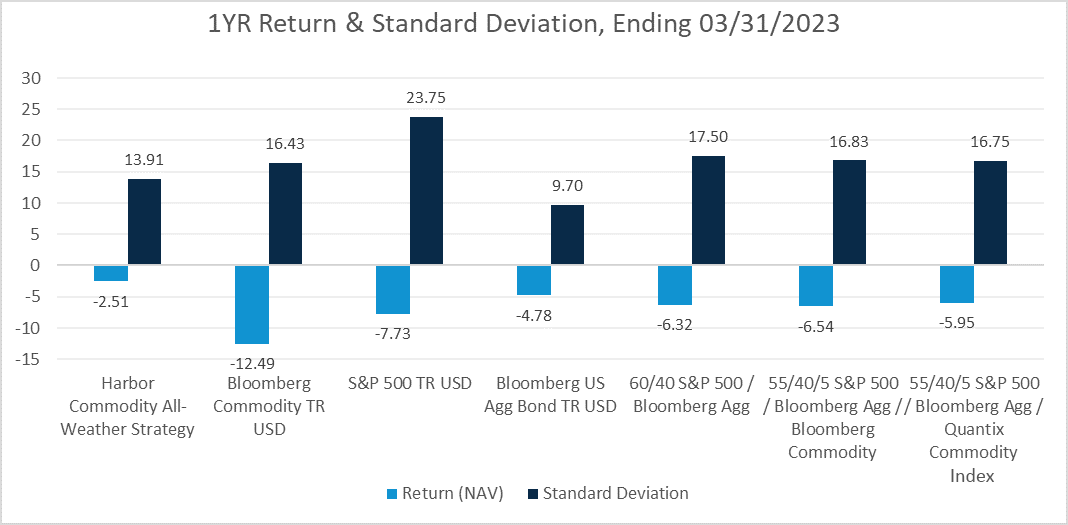 Performance data shown represents past performance and is no guarantee of future results. Past performance is net of management fees and expenses and reflects reinvested dividends and distributions. Past performance reflects the beneficial effect of any expense waivers or reimbursements, without which returns would have been lower. Investment returns and principal value will fluctuate and when redeemed may be worth more or less than their original cost. Returns for periods less than one year are not annualized. Current performance may be higher or lower and is available through the most recent month end at harborcapital.com or by calling 800-422-1050.

Quantix Commodity Index is used in this comparison as it is the tracking index for HGER. A 5% allocation is chosen based on common guidelines for allocating to commodities in a diversified portfolio.
Average Annual Returns
| Fund Name | 3. Mo. | YTD Return | 1 Yr. | Since Inception | Net Expense Ratio | Gross Expense Ratio |
| --- | --- | --- | --- | --- | --- | --- |
| Commodity All-Weather Strategy ETF | 0.68% | 0.68% | -2.48% | 9.86% | 0.68% | 0.68% |
| Fund Market Price | 0.50% | 0.50% | -2.40% | 9.95% | -- | -- |
| Quantix Inflation Total Return Index | 1.12% | 1.12% | -0.70% | 11.73% | -- | -- |
| Bloomberg Commodity Index Total Return(SM) | -5.36% | -5.36% | -12.49% | -0.64% | -- | -- |
Long-Term Commodities Investing
A strategic allocation to HGER in client portfolios may offer risk dampening, and potential for long-term returns. Read our full case for commodities and HGER.
Harbor Capital Advisors
Harbor Capital Advisors is an asset manager known for curating an intentionally select suite of active ETFs from boutique managers. Advisors looking for distinct and differentiated investment options for their clients' portfolios often connect with our passionate obsession to find what we believe to be the best – bold solutions that have the potential to produce compelling, risk-adjusted returns. For more information, visit www.harborcapital.com.
(866) 313-5549 (Institutional Service Desk) | HarborCapital.com | info@HarborCapital.com | Find your Sales Rep
Important Information

Investors should carefully consider the investment objectives, risks, charges and expenses of a Harbor fund before investing. To obtain a summary prospectus or prospectus for this and other information, visit harborcapital.com or call 800-422-1050. Read it carefully before investing.

All investments involve risk including the possible loss of principal. Unlike mutual funds, ETFs may trade at a premium or discount to their net asset value. The ETF is new and has limited operating history to judge.

Shares are bought and sold at market price not net asset value (NAV). Market price returns are based upon the closing composite market price and do not represent the returns you would receive if you traded shares at other times.

The views expressed herein may not be reflective of current opinions, are subject to change without prior notice, and should not be considered investment advice.

There is no guarantee that the investment objective of the Fund will be achieved. Stock markets are volatile and equity values can decline significantly in response to adverse issuer, political, regulatory, market and economic conditions. A non-diversified Fund may invest a greater percentage of its assets in securities of a single issuer, and/or invest in a relatively small number of issuers, it is more susceptible to risks associated with a single economic, political or regulatory occurrence than a more diversified portfolio.

Commodity Risk: The Fund has exposure to commodities through its and/or the Subsidiary's investments in commodity-linked derivative instruments. Authorized Participant Concentration/Trading Risk: Only authorized participants ("APs") may engage in creation or redemption transactions directly with the Fund. Commodity-Linked Derivatives Risk: The Fund's investments in commodity-linked derivative instruments (either directly or through the Subsidiary) and the tracking of an Index comprised of commodity futures may subject the Fund to significantly greater volatility than investments in traditional securities.

A "60/40 portfolio" is guidepost portfolio for a moderate risk investor. Portfolio allocations of 60% to equities to seek capital appreciation and 40% allocation to fixed income help mitigate risk and offer potential income.

Bps stands for basis points. A basis point is one hundredth of 1 percentage point.

Standard Deviation (Std Dev) of return measures the average deviations of a return series from its mean, and is often used as a measure of risk. A large standard deviation implies that there have been large swings in the return series.

The Quantix Commodity Index (QCI) was developed by Quantix Commodities LP and is owned by Quantix Commodities Indices LLC ("Quantix"). The QCI was created with the objective of being a diversified inflation hedge for investors using commodity futures contracts, traded in the U.S. and the U.K., as part of their core investment. Commodity futures are distinctive in their relationship to inflation and are generally regarded as having the highest positive correlation to inflation of all the major asset classes. The QCI is designed to provide a risk management framework to hedge inflation risk appropriately in connection with commodity investing, taking account of the relative inflation sensitivity of each commodity among a defined universe of commodities, the relative cost of holding a rolling, U.S. or U.K.-listed futures position in a given commodity and the relative impact of inflation on each particular commodity.

The S&P 500 Index is an unmanaged index generally representative of the U.S. market for large capitalization equities.

The Bloomberg US Aggregate Bond Index is an unmanaged index of investment-grade fixed-rate debt issues with maturities of at least one year. This unmanaged index does not reflect fees and expenses and is not available for direct investment.

The Bloomberg Commodity Index (BCOM) is a broadly diversified commodity price index that tracks prices of futures contracts on physical commodities.

Indices listed are unmanaged, do not reflect fees and expenses, and are not available for direct investment.

Quantix Commodities LP is the subadvisor for the Harbor Commodity All-Weather Strategy ETF.

Foreside Fund Services, LLC. is the Distributor of the Harbor Commodity All-Weather Strategy ETF.

2892760
---
Locate Your Harbor Consultant
INSTITUTIONAL INVESTORS ONLY: Please enter your zip code to locate an Investment Consultant.