The share creation/redemption process for ETFs helps to explain their ability to be "exchange traded" and drives the distinct difference in the buying and selling of an ETF versus a mutual fund.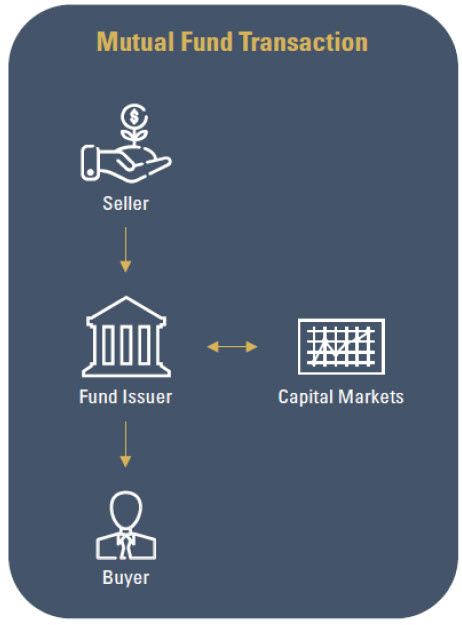 When investors buy mutual funds, they typically purchase shares directly from the fund sponsor. They likewise sell back (redeem) their shares to the fund company when they exit their investment.
The purchase and sale of mutual fund shares may force the fund manager to go to the capital markets to fulfill requests for shares or cash. This transaction can cause tax consequences for investors in that fund.
Example: Mutual fund investors rush to redeem shares in down markets, the fund may be compelled to sell portfolio securities to raise cash to meet redemptions. This selling of shares is considered a taxable event and can impact all remaining shareholders.
If portfolio securities are sold for a gain, a tax liability may be created, which can be passed through to non-redeeming investors.
In addition to fund generated capital gains. mutual fund investors will incur a capital gains tax liability if they personally sell their shares at a gain.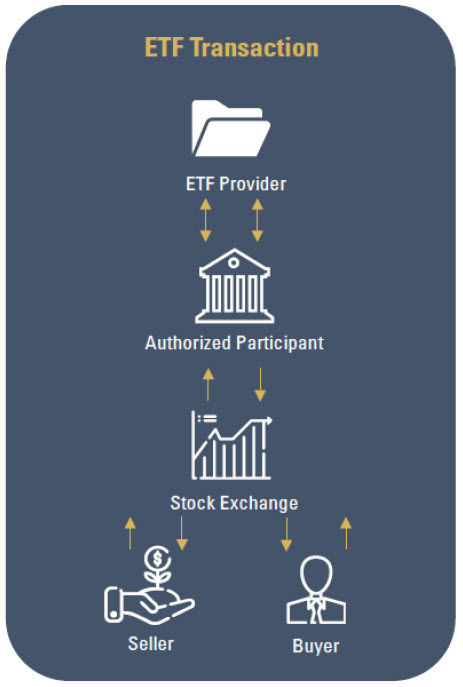 Unlike a mutual fund, only authorized participants (APs) may transact directly with an ETF. APs are ordinarily large investment firms that have authorization to deal directly with the fund through a participant agreement with the fund sponsor. the process by which an AP interacts with the ETF is called the creation/redemption process.
APs will generally create and redeem shares "in-kind" with the fund, meaning that they exchange shares, not cash with the ETF. These cashless transactions are typically not taxable events and help make ETFs relatively tax efficient.
Example: as part of the creation process, an AP receives ETF shares in-kind and at net asset value (NAV) which can then be introduced to the secondary market where they are traded between buyers and sellers on an exchange similar to a stock.
Remember, selling your mutual fund or ETF shares at a a gain will trigger a taxable event.