Executive Summary
March Headline Consumer Price Index (CPI) of 8.5 percent likely marks peak inflation for this business cycle unless commodity prices reaccelerate.
The data highlights the urgent need to reduce inflation and does not alter the trajectory for the Federal Reserve (FOMC, Fed). We expect the Fed to hike 50 basis points at their May and June meetings. Balance sheet normalization is set to begin at the May meeting as well.
Over the second half of the year, the Fed's urgency will be dictated by how fast inflation is declining and their view on whether inflation expectations have adapted to high realized inflation.
We retain our defensive positioning as a resolute Fed will continue to tighten financial conditions until there is more clarity on underlying inflation dynamics.
---
Headline CPI data for March printed at 8.5 percent year-over-year as rising commodity prices exacerbated the elevated underlying inflation trend. While the headline number was slightly above consensus expectations, core CPI came in 0.2 percentage points below dealer estimates. Markets focused on the latter outcome with U.S. equity futures increasing, the dollar weakening, and Treasury yields declining. The data then leaves us with two questions. Has inflation peaked? Are inflation dynamics structurally different because of high inflation?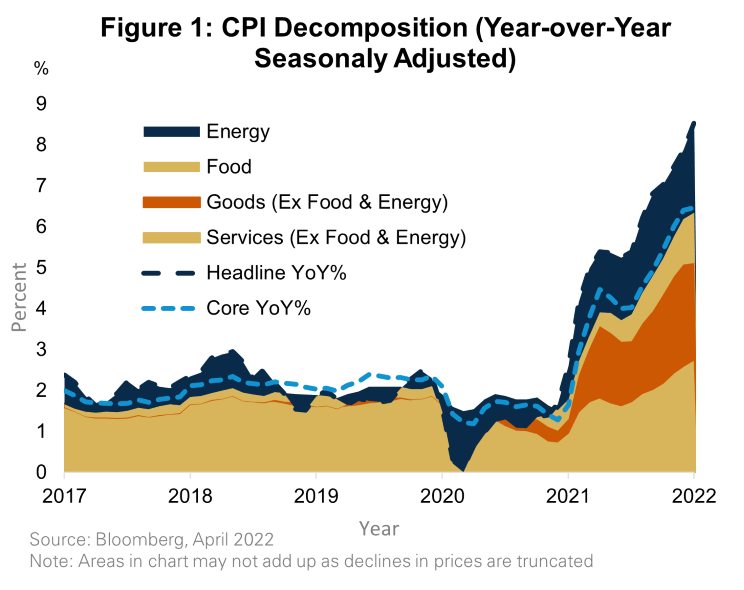 Is this Peak Inflation?
Ahead of the print, market pricing and economic forecasters expected March CPI to be the high-water mark for inflation this cycle. Barring a substantial increase in commodity prices, we think the underlying subcomponents support this conclusion. Used car prices, the poster child for supply chain issues, decelerated sharply, declining almost 4 percent month-over-month. On the other end of the spectrum for pandemic affected sectors, hotel and airfare prices jumped significantly as the pandemic waned in the U.S. and travel demand surged. We continue to expect the volatility of inflation subcomponents to decline and for the focus to shift towards the underlying trend.
Focusing on the underlying trend, best proxied by the services sector, it remains elevated at 4.7 percent on a year-over-year basis. So, while the Fed will be relieved that there were few surprises in the March CPI print, the data does not alter the near-term path for the central bank. We expect the Fed to increase interest rates by 50 basis points at both the May and June FOMC meetings. Furthermore, the central bank will begin rapidly normalizing the balance sheet through passive redemptions of MBS and Treasury securities. Once the second half is underway, the Fed will get the chance to assess progress on inflation, but odds are the central bank will continue to hike at each meeting through the end of the year resulting in 9 hikes in 2022.
Are Inflation Dynamics Structurally Different Because of High Inflation?
We pose this question as it is central to our view on rates and our outlook for the FOMC. Before the recent bout of elevated inflation, measures of inflation expectations and trend inflation appeared consistent with, or even slightly below, the Fed's 2 percent goal. However, the last 12 months have seen survey-based measures of inflation expectations increase while inflation has become the most salient feature of the post-pandemic economy (Figure 2). We emphasize salience as research on the formation of inflation expectations continues to be an inexact science; however, we agree with the idea that inflation expectations are well-anchored when inflation barely registers in consumers and businesses' decision-making. The next question then is whether very salient, high inflation has increased inflation expectations and the mean we revert to is inconsistent with the FOMC's price stability mandate.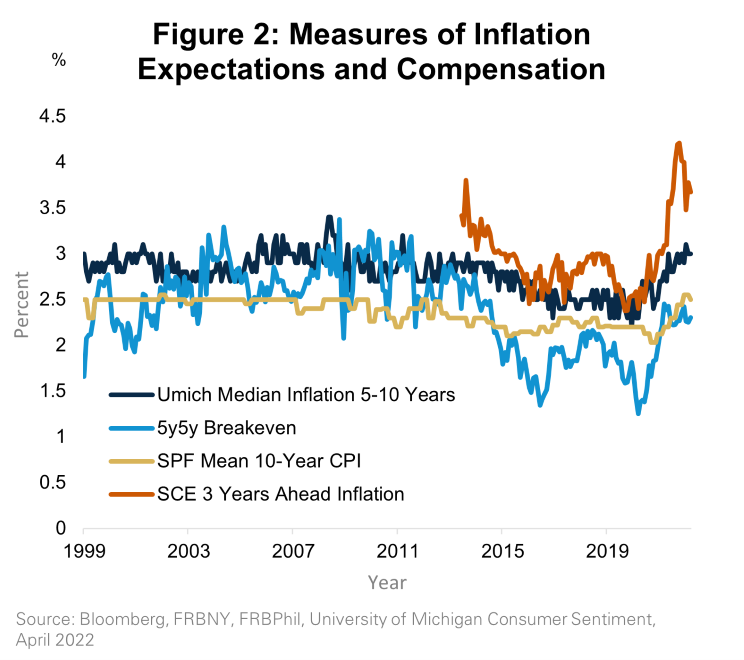 Market pricing suggests that structurally higher inflation is not the baseline expectation with the 5-year, 5-year forward breakeven around 2.3 percent.1 We think this is the right conclusion largely because we believe that the Fed is willing to do what it takes to ensure that inflation expectations do not become unanchored, even if the result is a recession. In thinking about their credibility and the price stability mandate, the FOMC thinks beyond the current business cycle because their model of inflation relies so heavily on inflation expectations. If they let inflation expectations become unanchored in this cycle it affects their ability to conduct policy in subsequent business cycles. This is not to say that the Fed will be eager to induce a recession, but it is a risk if they become concerned that inflation expectations are rising. Listening to Committee members, we think concerns are elevated and their policy preferences reflect that. However, we think the core of the Committee which includes Chair Powell, and Vice Chairs Brainard and Williams, remains optimistic that medium-term inflation expectations are consistent with the 2 percent goal conditional on inflation falling below 4-5 percent by the second half.
Stay Defensive, Consider Reducing Duration Short
Our view that inflation will fall both organically and in response to a resolute Fed leaves us maintaining a defensive posture in equities where we favor sectors with resilient earnings and attractive growth prospects, healthcare being a prime example. For rates, the increase in yields at the back end of the curve has us considering whether it is time to close our long-standing duration underweight. We think the distribution of risks is still skewed higher, particularly for real yields, but valuations are increasingly compelling. We are cautious on spread products as we think the next leg of financial conditions tightening will feature credit spread widening.
For more information, please access our website or contact us at 1-866-313-5549.
1The 5y5y breakeven is a widely used market-based proxy for inflation expectations as it strips out near-term business cycle dynamics and the idiosyncrasies associated with the front-end of the TIPS curve. However, the 5y5y is not a true measure of inflation expectations as it is subject to various risk premia.
---
Legal Notices & Disclosures
The views expressed herein are those of Harbor Capital Advisors, Inc. investment professionals at the time the comments were made. They may not be reflective of their current opinions, are subject to change without prior notice, and should not be considered investment advice. The information provided in this presentation is for informational purposes only.
This material does not constitute investment advice and should not be viewed as a current or past recommendation or a solicitation of an offer to buy or sell any securities or to adopt any investment strategy.
The Bloomberg Commodity Index is an unmanaged broadly diversified commodity price index distributed by Bloomberg Index Services Limited. This unmanaged index does not reflect fees and expenses and is not available for direct investment.
Performance data shown represents past performance and is no guarantee of future results.
Investing entails risks and there can be no assurance that any investment will achieve profits or avoid incurring losses.
Harbor Capital Advisors, Inc.