The Perils of Interest-Rate Forecasting
---
June 15, 2023
As the Fed has continued its tightening policy, a favorite pastime of economists and market pundits is to forecast where interest rates will wind up. In doing so, they've taken on a very challenging task because the path of interest rates is notoriously difficult to predict. To get a sense of the challenge, let's look back at economists' track record for forecasting the U.S. 10-Year Treasury Yield since FactSet began tracking them in 2014. The chart below compares median forecasts at the beginning of each calendar year with actual yields at each year's end, with the bars showing how far economists' predictions were off.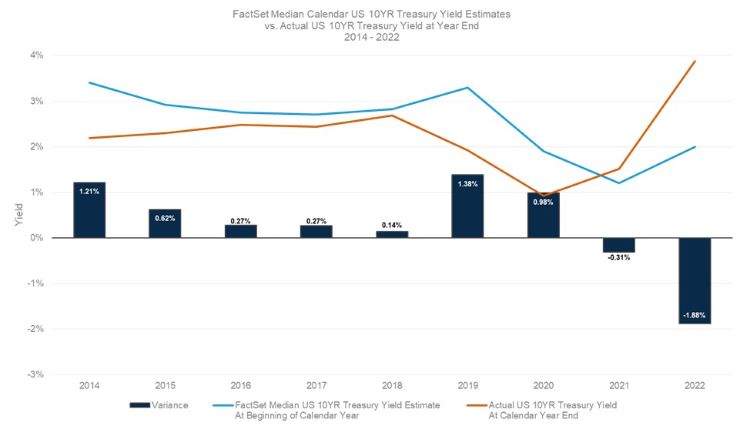 Performance data shown represents past performance and is no guarantee of future results.

Source: FactSet, 2022.
As you can see, median predictions have only come within 20 basis points of actual year end U.S. 10YR Treasury Yields once (in 2018) over the represented timeframe. On an absolute value basis, median forecasts have varied from actual yields on average by 79 basis points over the last 9 years.
Professional bond managers haven't proven much better in forecasting rates. The chart below shows the average effective duration of funds in Morningstar's Intermediate Core Plus category per quarterly surveys and compares them to the three-month forward rate for the U.S. 10-Year Treasury Bond. Bond managers may seek to move their funds' duration in the opposite direction of rates. For instance, to help protect their portfolios from the impact of rising rates, they may strive to reduce duration. However, this chart shows that over the last 5 years, on average, category funds have generally decreased or increased duration only to see rates move in the same direction three months later. Notably, funds lengthened duration from June 2021 through March 2022 prior to meaningful increases in U.S. 10YR Treasury Yield.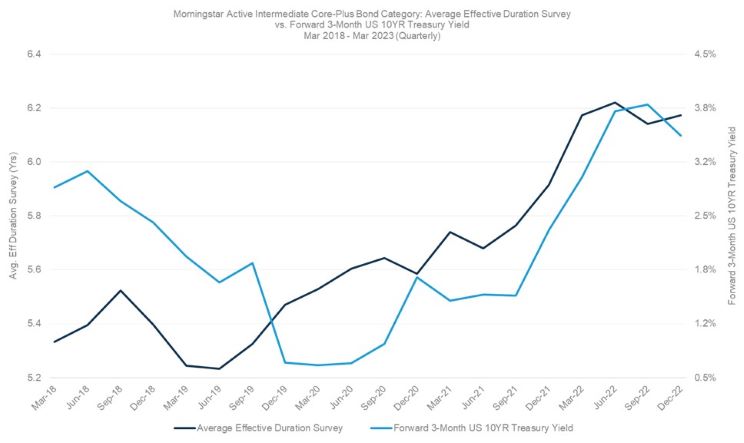 Performance data shown represents past performance and is no guarantee of future results.

Source: Morningstar Direct, FactSet, 2023.
This data suggests that predicting interest rates is a low probability endeavor that is unlikely to contribute to consistency of manager outperformance. Importantly, as interest rate volatility remains elevated, we believe active strategies employing duration neutral approaches appear well positioned for the winding road ahead.
Important Information
The views expressed herein may not be reflective of current opinions, are subject to change without prior notice, and should not be considered investment advice or a recommendation to purchase or sell a particular security.
All investments involve risk including the possible loss of principal. Stock prices can fall because of weakness in the broad market, a particular industry, or specific holdings. Bonds may decline in response to rising interest rates, a credit rating downgrade or failure of the issue to make timely payments of interest or principal.
In relation to any data attributed to Morningstar, please note the following: © Morningstar 2023. All rights reserved. Use of this content requires expert knowledge. It is to be used by specialist institutions only. The information contained herein: (1) is proprietary to Morningstar and/or its content providers; (2) may not be copied, adapted or distributed; and (3) is not warranted to be accurate, complete or timely. Neither Morningstar nor its content providers are responsible for any damages or losses arising from any use of this information, except where such damages or losses cannot be limited or excluded by law in your jurisdiction. Past financial performance is no guarantee of future results.
A basis point is one hundredth of 1 percentage point.
Average Effective Duration: 5-year historical average effective duration computed monthly. Effective duration conveys the relative price sensitivity (percentage change in price) of a security to change in interest rates.
Investing entails risks and there can be no assurance that any investment will achieve profits or avoid incurring losses.
2957445
---
Locate Your Harbor Consultant
INSTITUTIONAL INVESTORS ONLY: Please enter your zip code to locate an Investment Consultant.