Our Current Healthcare Predicament Potentially Creates Long-term Opportunity
---
July 12, 2023
Evolution in the Making
Healthcare spending has grown at unsustainable rates for decades. Yet a growing aging population and increasingly sophisticated advances in healthcare infrastructure and delivery could ultimately incentivize the healthcare industry to find ways to deliver better healthcare outcomes while controlling costs.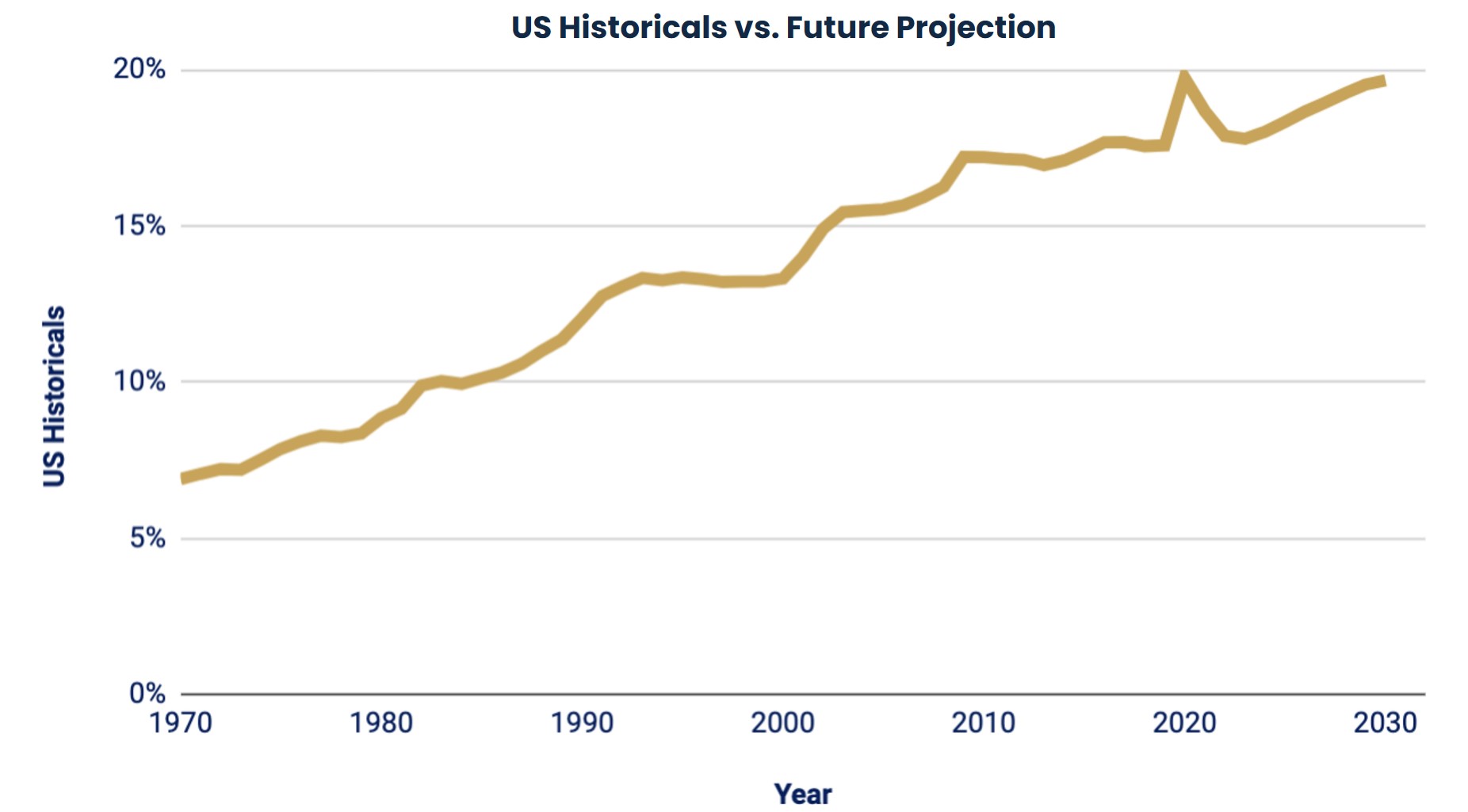 Source: Centers for Medicare and Medicaid Services (CMS), Congressional Budget Office (CBO), National Health Expenditure (NHE), April 2023. Hypothetical for illustrative purposes only.
Potential Benefits with Value-based Health Care
Patients
Lower costs & better outcomes
Providers
Higher patient satisfaction rates
Better care efficiencies
Prices aligned with patient outcomes
Payers
Stronger cost controls
Reduced risks
Society
Reduced health-care spending
Overall better health
It's an evolution that is both overdue and spells opportunity for seasoned investors in the healthcare space.
The Opportunity
A focus on value-based care (VBC) could be necessary in order to improve healthcare outcomes for patients at a cost that is accessible and acceptable to providers, payers, and society as a whole. But it won't happen all at once.
Over time, we believe seasoned investors will be able to reliably identify and capture alpha as breakthroughs continue to transform how care is delivered, data is collected, and diseases are diagnosed, treated, and cured.

Durable Elements Signal Room to Grow
Demographics: With the world's population getting older, demand for effective, accessible and cutting-edge healthcare should increase.
This could favor:
Organic revenue generators: should be able to increase sales without having to buy equipment or hire large pools of workers and should be well-positioned to add value to the healthcare system without adding costs. Examples may be software and technology companies specializing in streamlining healthcare operations.
Innovators: are companies that have taken costs out of a process or built a better mousetrap. Companies dedicated to the development of new or improved therapies to cure disease will fall into this category.
Efficiency vendors: offer productivity solutions to the healthcare pipeline, which enable organizations to expand their capacity without expanding costs. Examples may be justified middlemen specializing in logistics or managing niche clinical trials.
Seasoned, Active Management Matters
Finding winners in a space as vast and complex as healthcare is not work for novices. An experienced team can help enable investors to confidently stay the course to capitalize on long-term growth opportunities, as well as navigate through shorter-term periods of volatility and dislocation.
MEDI is subadvised by Westfield Capital Management Company, a team that has an extensive history of investing in companies that seek to disrupt the health ecosystem across industries and all along the capitalization spectrum.
Disciplined valuation criteria center on unearthing well-capitalized, post-proof-of-concept companies that have a competitive edge for innovation and multiple promising assets in the pipeline to mitigate risk.
The team seeks opportunities to invest in companies it believes are especially well positioned to benefit from key paradigm shifts in healthcare, including those focused on:

Value-based care
Consumerization of medical technology
Targeted oncology
Liquid biopsy
Gene therapy
Orphan diseases
About Harbor Health Care ETF (MEDI)
MEDI is an active, fully transparent ETF that offers pure-play exposure to the healthcare theme. The companies included in the portfolio are working on quality and longevity of life, including how people experience healthcare and manage its costs.
MEDI can be a strong choice for investors seeking:
Complements or alternatives to passive healthcare exposure
To correct an asset allocation that may be structurally underweight to the healthcare sector
Exposure to a compelling, long-tail macro theme that can help enhance overall portfolio diversification
A well-crafted, thematic ETF that provides diversified, all-cap exposure to the healthcare sector across sub-industries, including biotech, life sciences, healthcare providers, and pharmaceuticals
Learn More
Let's continue the conversation about how MEDI may offer a valuable opportunity to get in on the ground floor of an inevitable healthcare revolution.
Click here to access more information about MEDI.
Reach out to your Harbor Representative (866) 313-5549.
Important Information
Investing involves risk, principal loss is possible. Unlike mutual funds, ETFs may trade at a premium or discount to their net asset value. The ETF is new and has limited operating history to judge. Unlike mutual funds, ETFs may trade at a premium or discount to their net asset value.
There is no guarantee that the investment objective of the Fund will be achieved. Stock markets are volatile and equity values can decline significantly in response to adverse issuer, political, regulatory, market and economic conditions. Since the Fund may hold foreign securities, it may be subject to greater risks than funds invested only in the U.S. These risks are more severe for securities of issuers in emerging market regions. Foreign currencies can decline in value and can adversely affect the dollar value of the fund. Since the Fund typically invests in a limited number of companies, an adverse event affecting a particular company may hurt the Fund's performance more than if it had invested in a larger number of companies. Authorized Participant Concentration/Trading Risk: Only authorized participants ("APs") may engage in creation or redemption transactions directly with the Fund. The Fund is classified as non-diversified, a non-diversified Fund may invest a greater percentage of its assets in securities of a single issuer, and/or invest in a relatively small number of issuers, it is more susceptible to risks associated with a single economic, political or regulatory occurrence than a more diversified portfolio. New Fund Risk: There can be no assurance that the Fund will grow to or maintain an economically viable size, in which case the Board of Trustees may determine to liquidate the Fund. Small and Mid Cap Risk: The Fund's performance may be more volatile because it may invest in issuers that are smaller companies.
Health Care Industry Risk: Because the Fund seeks to invest all, or substantially all, of its assets in the health care industry, the value of its shares will depend on the general condition of the that industry. The health care industry may be affected by any number of factors, including, but not limited to, lapsing patent protection, industry innovation, extensive government regulation, restrictions on government reimbursement for medical expenses, research and development costs, limited product lines, product liability litigation, an increased emphasis on outpatient services, and competitive forces.
Diversification does not assure a profit or protect against loss in a declining market.
The views expressed herein may not be reflective of current opinions, are subject to change without prior notice, and should not be considered investment advice.
Westfield Capital Management Company, L.P. is a third-party subadvisor to the Harbor Health Care ETF (MEDI).
2998662
---
Locate Your Harbor Consultant
INSTITUTIONAL INVESTORS ONLY: Please enter your zip code to locate an Investment Consultant.