Navigating Growth Markets with Active Precision
---
August 23, 2023
In the first half of 2023, the concentration of the Russell 1000 Growth Index's top 10 holdings' weight amounted to 51.2%. Only a decade ago, that weighting was less than half of where it sits now, accounting for only 20.7% of the index's composition.
Often, periods of less meaningful index concentration than at present can be followed by periods of stronger performance from active managers as these large positions unwind, benefiting managers with underweight stances.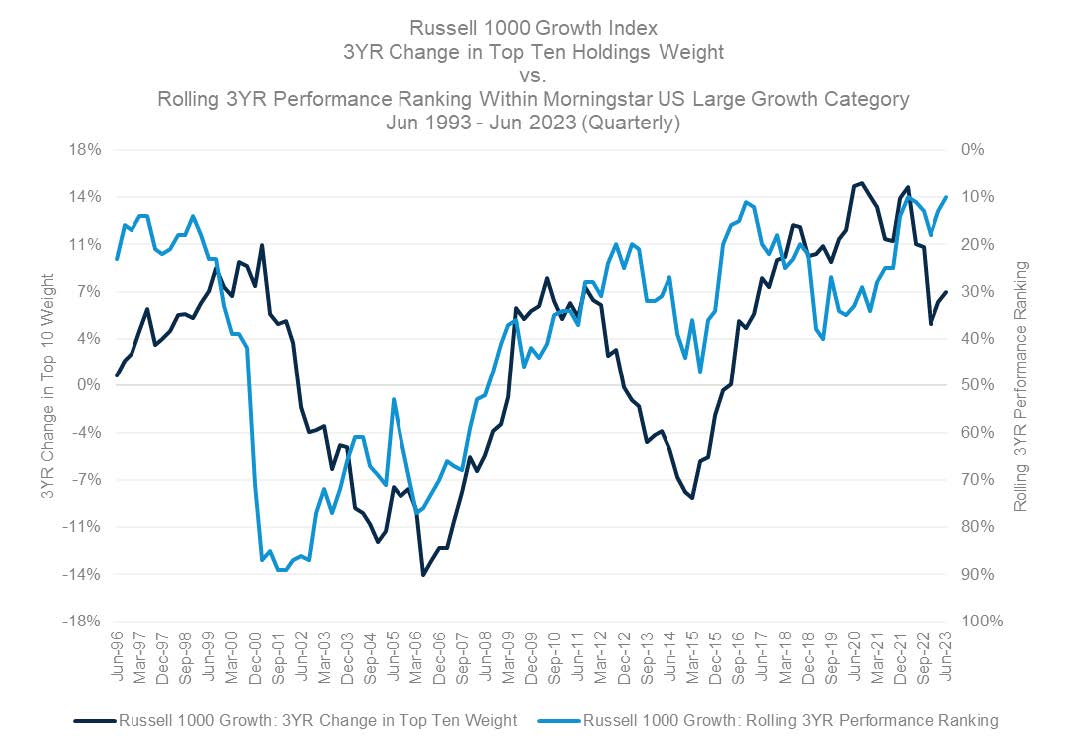 Source: FactSet Research Systems, Morningstar Direct, June 2023.
Performance data shown represents past performance and is no guarantee of future results.
In addition, as many investors believe we are entering into a period of slower growth and an uncertain economic outlook, we believe that companies with weaker per share growth prospects and less seasoned management teams could face performance pressures looking ahead.
During times like these, we emphasize the importance of active management to not only identify those companies we believe to be best positioned to outperform, but also to help navigate those investments that may not be as well positioned to sustain earnings growth. Thus far in 2023, we find that evading performance laggards has provided an expanded opportunity set for active U.S. large cap growth alpha generation, emboldening our assessment of the attractiveness of active at present. To learn more about Harbor's active optionality in the growth space, please visit our website.
Important Information
The views expressed herein may not be reflective of current opinions, are subject to change without prior notice, and should not be considered investment advice or a recommendation to purchase or sell a particular security.
Investing entails risk and there can be no assurance that any investment will achieve profits or avoid incurring losses. There is no guarantee any company or investing strategy will pay dividends.
All investments involve risk including the possible loss of principal. Stock prices can fall because of weakness in the broad market, a particular industry, or specific holdings.
The Russell 1000® Growth Index is an unmanaged index generally representative of the U.S market for larger capitalization growth stocks. The Russell 1000® Growth Index and Russell® are trademarks of Frank Russell Company. These unmanaged indices do not reflect fees and expenses and are not available for direct investment.
Alpha is a term used in investing to describe an investment strategy's ability to beat the market, or its "edge."
3065863
---
Locate Your Harbor Consultant
INSTITUTIONAL INVESTORS ONLY: Please enter your zip code to locate an Investment Consultant.