Key Takeaways
Revenue and profit growth for the second quarter are running at 12% and 6% year-over-year, respectively.
Fundamental breadth is softening with revenue and earnings beats below their historical averages.
Four sectors have reported a year-over-year decline in earnings, including the Technology sector.
Analysts have lowered their 2023 bottom-up Earnings Per Share (EPS) estimate by 2%.
---
The past week was the busiest of this earnings season, with over 170 companies reporting second-quarter results. Cumulatively we are now at the halfway point in earnings season; 280 companies, or 56% of the S&P, have provided updates on business performance. Most companies have reported that business fundamentals remain positive with few signs of an impending slowdown. However, management teams have acknowledged that the range of outcomes is vast, and uncertainty is elevated as we head into the back half of the year. As a result, the number of companies that have upgraded their earnings guidance vs. those that have lowered their outlook has been balanced.
Source: FactSet Estimates, Harbor Capital. July 29, 2022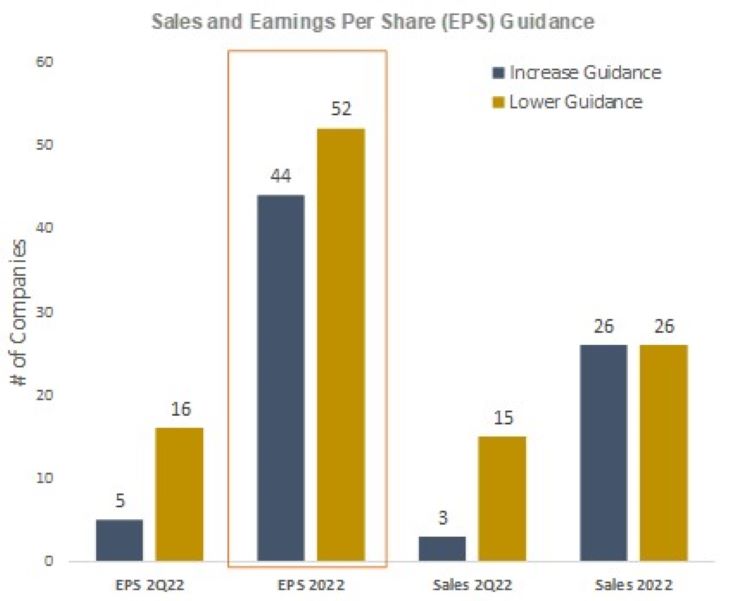 Source: FactSet Estimates, Harbor Capital. July 29, 2022
2Q22 Earnings Review
The S&P 500 blended growth rates improved marginally for revenue and earnings from last week but have softened relative to the past few quarters. U.S. large-cap companies are expected to post 12% blended revenue growth for the second quarter vs. an average of 18% over the past four quarters. The sectors that have contributed the most to top-line growth are Energy, Consumer Discretionary, and Healthcare.
The earnings growth rate ticked up one percentage point compared to last week. The S&P's blended earnings growth rate is now 6% but remains below the average of the previous four quarters (43%) and its long-term average of 9%. Three sectors (Consumer Discretionary, Financials, and Communication Services) have contributed to the below-trend growth by reporting a 10% or greater decline in year-over-year earnings. Interestingly, Information Technology, the quintessential secular growth sector, has reported negative earnings growth for Q2 (-1.4%).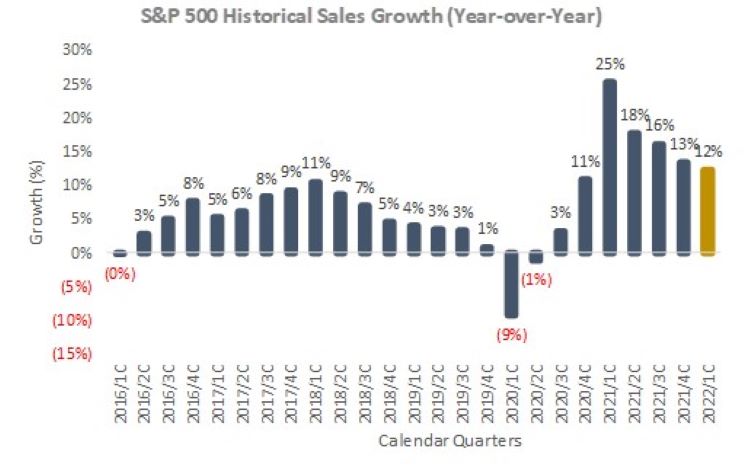 Source: FactSet Estimates, Harbor Capital. July 29, 2022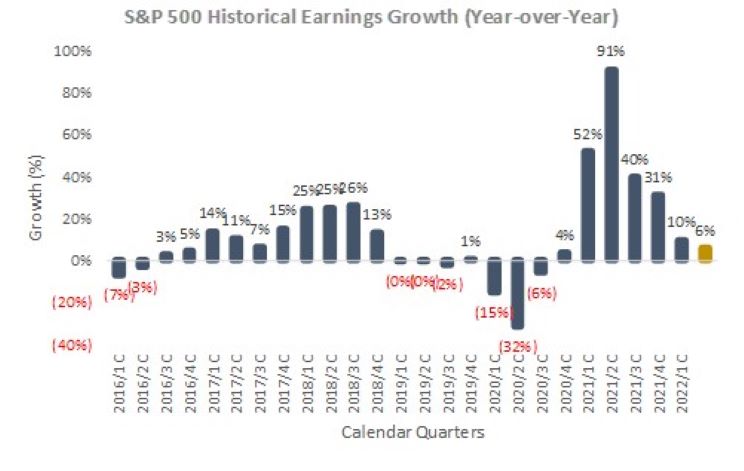 Source: FactSet Estimates, Harbor Capital. July 29, 2022
The breadth of fundamental momentum, measured by the percentage of companies beating expectations, has deteriorated. Starting at the top of the profit and loss, 66% of companies have exceeded consensus sales expectations, but that is below the 5-year average (69%) (S&P 500, July 2022). The softness has been broadbased across economic sectors, with six of the eleven reporting below-average beat rates. Communication Services, Financials, and Technology have missed their average beat rates by the widest margin.
Similarly, earnings momentum breadth has weakened, with only 71% topping estimates compared to 77% over the past five years (S&P 500, July 2022). Communication Services, Financials, Materials, and Technology were the sectors that have reported lower beat rates. For example, historically, 88% of Technology companies have typically beat on earnings; this compares to just 74% in Q2 (S&P 500, July 2022).
Therefore, earnings have surprised by 3.8%, which is one percentage point below the long-term average. The Energy, Consumer Staples, and Healthcare sectors have exceeded consensus estimates with positive contributions from revenue and margins. Financials, REITs, and Communication Services have been the biggest drags.
Source: FactSet Estimates, Harbor Capital. July 29, 2022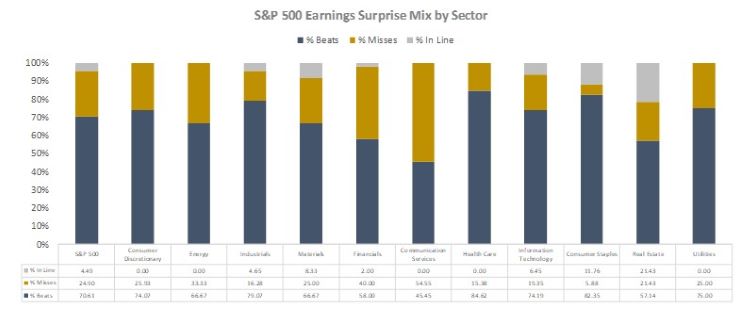 Source: FactSet Estimates, Harbor Capital. July 29, 2022
Learnings from Earnings
The Multi-Asset Solutions Team monitors a portfolio of industry bellwethers' earnings reports to extract insights into the underlying economic variables we track in our Business Cycle Indicator. Our micro-to-macro process provides a boots-on-the-ground perspective of fundamental trends impacting economic momentum.
Over the past week, we listened to several calls from companies selling into consumer-based end markets. In summarizing the overall message from these companies, we would say that management teams generally were cautiously optimistic around consumer spending trends, with some softening in housing offset by positive comments from auto and payment companies.
Visa — one of the largest companies globally in the payment processing space — reported beating on both the top and bottom lines earlier this week. Given its worldwide reach, Visa is uniquely positioned to derive insights into consumption patterns across all types of customers and end markets. Payment volume, especially in the U.S., has surpassed 2019 levels. We're now seeing business and cross-border travel improve except in parts of Asia (specifically China), where cross-border activity remains depressed relative to pre-COVID levels. China specifically was weak, with travel into the country at approximately 25% of pre-COVID levels. When explicitly asked about potential weakness in consumer spending, the CEO and CFO cited continued strength in the affluent and lower-income cohorts based on their data. Affluent spenders have increased their experiential expenditures, so there's been a mix shift towards higher ticket items associated with those activities. Relating to the lower income consumer specifically, they are not seeing any evidence of a slowdown in spending in their data despite what other companies have been saying.
General Motors, one of the Big 3 Detroit auto companies, announced this week. They, too, continue to cite strong end-market demand and increased inventory of work-in-process vehicles — a reflection of building vehicles that can't yet be delivered due to missing component pieces. Unfinished vehicle inventory has been building because of the strength in end markets and historically low dealer inventory. Higher input costs from commodities and freight have been a continued headwind, though they are starting to see some reprieve in raw materials. Thus far, pricing has been better than expected due to healthy demand and tighter inventories which have helped to offset higher commodity costs.
On the credit side of the business, GM Financial is experiencing strong performance regardless of the credit tier in the new car portfolio. However, in used vehicles, there are credit segments that are more concerning where they are likely to become more conservative on underwriting loans. Overall, in their view, consumers' balance sheets remain strong but the consumer's financial health is a dynamic they are closely monitoring as the cycle matures.
Finally, we wanted to touch on the homebuilders as housing is such an important part of the economy and multiple builders have reported over the last two weeks. Both Pulte and D.R. Horton (the largest public builder in the country) have seen a slowing in their businesses reflecting the impacts of higher rates and affordability. This is evidenced by D.R. Horton's cancellation rate in the quarter increasing to 24% (up materially from 17% last year) and Pulte's cancellation rate going to 15% (up from 7% last year). Notably, both companies indicated that cancellations are being resold. Commentary from management teams indicates that demand is strong, but volatility in financing rates is weighing on purchase decisions. Consequently, Pulte is increasing spec home starts as buyers want to close quickly to avoid potential increases in mortgage rates — which are top of mind given the dramatic magnitude and speed of rate increases in Q2. We're also starting to see a normalization of incentive pricing offers to historical levels, again indicating that at these levels price has begun to matter.
Estimates Continue to Trend Lower
Business fundamentals have been positive and management teams have generally been constructive on the overall demand environment. However, in some instances, the exit rates and July trends prove that a phase transition to slower growth is ahead. Consequently, earnings revisions fell further compared to the prior week. Earnings estimates for next year have now fallen by 2% since the beginning of July to $245, representing an 8% growth rate (S&P 500, July 2022). We think that a high-single growth rate for next year will prove to be too optimistic as we are in the early innings of an earnings downgrade cycle.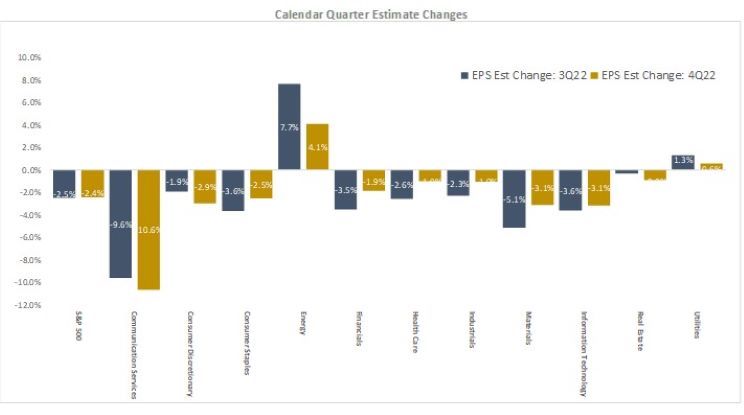 Source: FactSet Estimates, Harbor Capital. July 29, 2022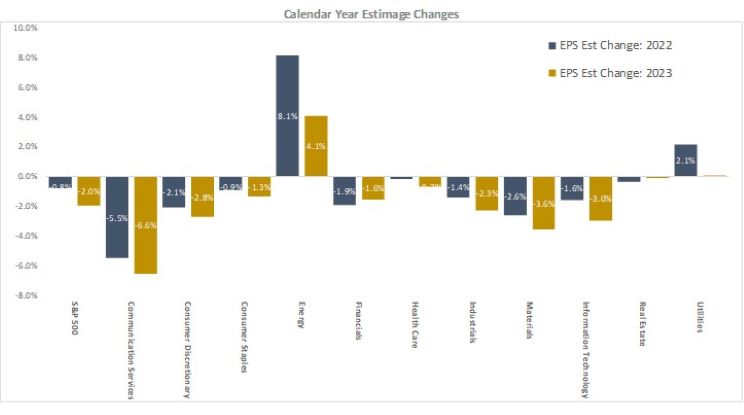 Source: FactSet Estimates, Harbor Capital. July 29, 2022
The S&P 500 has seen its valuation expand during this earnings season as the S&P 500 has increased 8% since the start of July. The combination of higher prices and lower earnings estimates has pushed the multiple on next year's earnings higher by 11%. The S&P is now trading at 16.7x consensus 2023 earnings estimate which is in line with its 10-year historical average but up from 15x at the start of the earnings season. Despite the counter-trend rally in equities over the past month driven by a peak inflation narrative, we continue to be underweight equities due to our outlook for a meaningful decline in earnings. Within equities, we prefer high-quality and defensive exposures. Our largest sector overweight remains the Healthcare sector, given its revenues are less economically sensitive, has higher profitability, and less earnings variability. For more information, please
access our website
or contact us at
1-866-313-5549
.
---
Important Information
The views expressed herein are those of Harbor Capital Advisors, Inc. investment professionals at the time the comments were made. They may not be reflective of their current opinions, are subject to change without prior notice, and should not be considered investment advice. The information provided in this presentation is for informational purposes only.
Performance data shown represents past performance and is no guarantee of future results.
Forecast and estimates are based on hypothetical assumptions and for informational purposes only. This material does not constitute investment advice and should not be viewed as a current or past recommendation or a solicitation of an offer to buy or sell any securities or to adopt any investment strategy. The information presented does not represent the results that any particular investor may actually attain. Actual results will differ, and may differ substantially, from the hypothetical information provided.
Indices listed are unmanaged, and unless otherwise noted, do not reflect fees and expenses and are not available for direct investment.
Investing entails risks and there can be no assurance that any investment will achieve profits or avoid incurring losses.
Harbor Capital Advisors, Inc.