Key Takeaways
Second quarter revenue growth pacing at 11% year-over-year with profit growth of 5%.
70% of companies have beaten top-line expectations by 1.3%, above the long-term average.
Earnings beats and surprises have been below their historical average.
Management commentary has been constructive on overall operating performance.
Analysts have started to lower their outlooks for next year with broad-based negative revisions.
---
In the second week of earnings, 70+ S&P companies reported, with a cumulative 20% having released 2Q22 results to date. Last week we highlighted the dichotomy between management's positive prepared remarks on how businesses are performing versus the analyst community's pointed questions regarding the future operating performance in a weaker economic environment.
Examining earnings transcripts this quarter relative to the same point last quarter, we have seen the mention of "recession" expand significantly. At this point last earnings season, "recession" was mentioned in 29 transcripts with 2.6 mentions per earnings call. This quarter, the number of transcripts and the mention rate increased meaningfully. Roughly 70% of companies that have reported have had "recession" mentioned on their earnings call, with 4.5 mentions per transcript. Nearly half of the companies are in the Finance sector, 15% are Industrials, and 10% are in Business Services.
The differences in management and investor sentiment continued this week with companies remaining constructive on the strength of the consumer and overall demand. However, the analyst community has begun lowering estimates, with 2023 estimated EPS falling 1% since the quarter's end.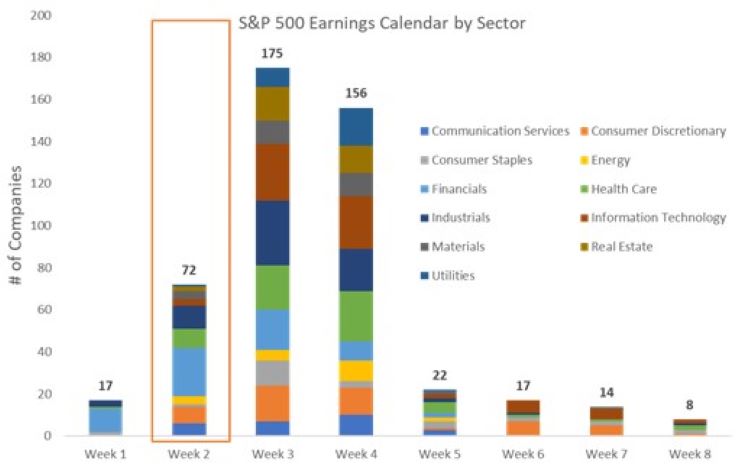 Source: FactSet Estimates, Harbor Capital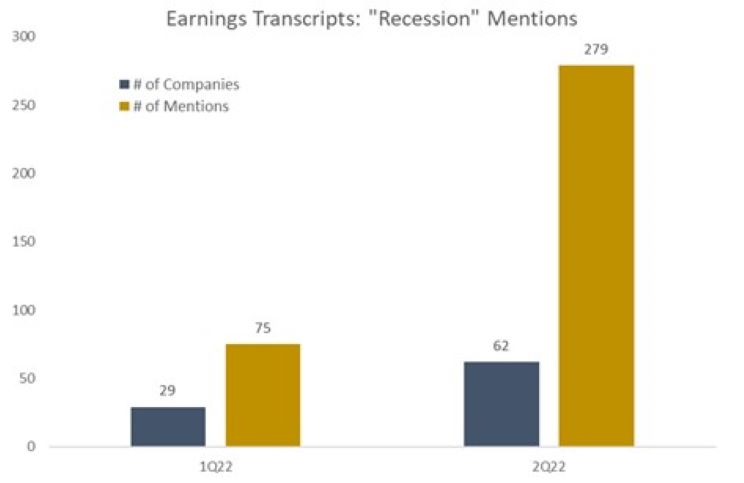 Source: FactSet Estimates, Harbor Capital
2Q22 Earnings Review
In this inflationary backdrop, fundamentals are softening relative to prior quarters, with nominal sales holding up better than earnings. Earnings growth is slowing faster than revenue as inflation benefits sales, but higher input costs are a headwind to earnings. Blended growth rates are unchanged from last week; expectations are for sales and profits to increase by 11% and 5%, respectively, relative to the year-ago period.
Source: FactSet Estimates, Harbor Capital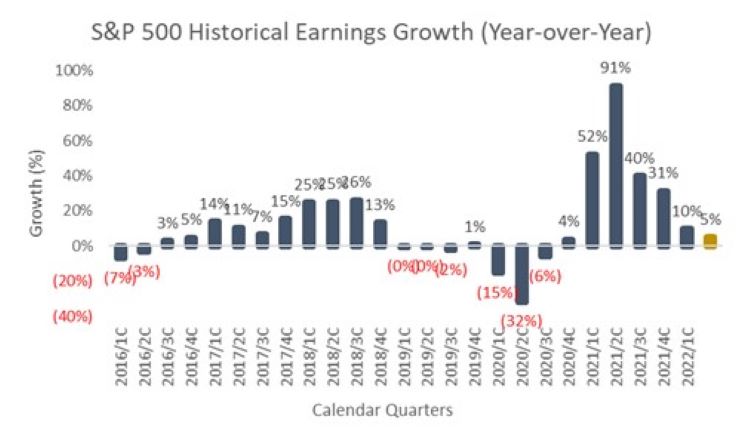 Source: FactSet Estimates, Harbor Capital
The top line for the S&P 500 is expected to increase by 11% in the second quarter, which would be above the expected growth rate at the end of the quarter. Since last week the number of companies beating on revenue improved, 70% of companies have topped expectations, above its 5-year average of 68%. As a result, sales have positively surprised by 1.3%, above a historical average of 1%. The only sectors to have reported a lower beat rate relative to history are the Financials (60%) and Industrials (57%).

Source: FactSet Estimates, Harbor Capital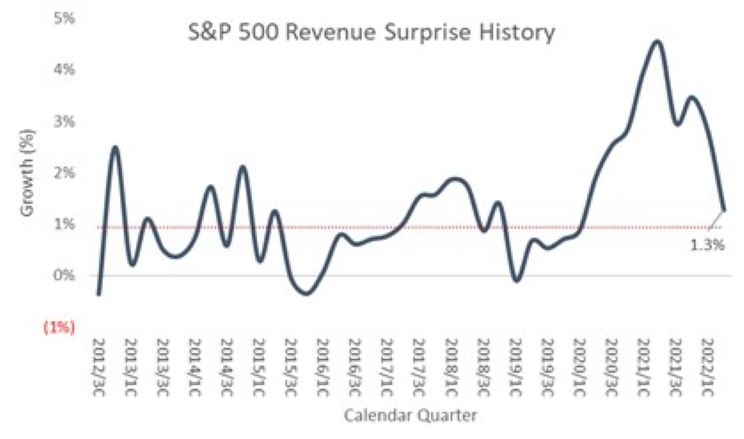 Source: FactSet Estimates, Harbor Capital
Earnings beats and surprises have disappointed relative to historical rates. The 5% earnings growth rate has held constant. However, only 73% of companies have beat on earnings compared to a 5-year average of 77%. The weakness has been broad-based, with seven out of the eleven sectors' percent-beat rates below the historical average. Furthermore, companies have exceeded earnings by 3% in the second quarter compared to a long-term average of 5%. The only sector to negatively surprise on operating earnings has been the Industrial sector.

Source: FactSet Estimates, Harbor Capital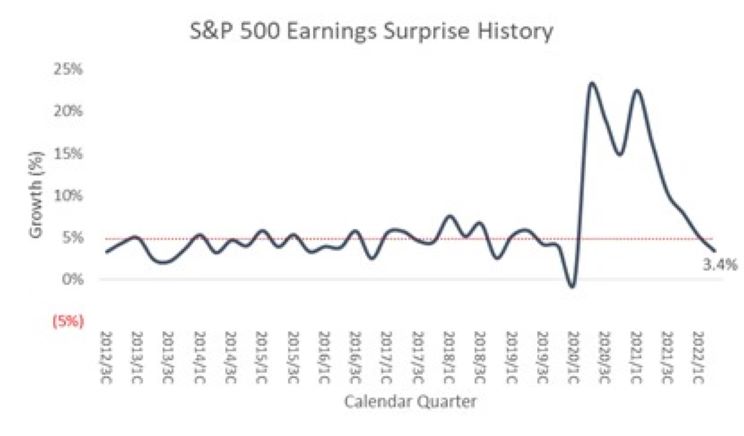 Source: FactSet Estimates, Harbor Capital
Learnings from Earnings
The Multi-Asset Solutions Team monitors a portfolio of industry bellwethers' earnings reports to extract insights into the underlying economic variables we track in our Business Cycle Indicator. Our micro-to-macro process provides a boots-on-the-ground perspective of fundamental trends impacting economic momentum.
Last week, we heard positive comments on the consumer from the banking and travel-related industries. This week's banking and consumer finance results underscored the consumers' financial health. US Bancorp, a large regional bank, discussed how the consumer remains strong and balance sheets are healthy. However, they are seeing a shift in consumption patterns away from discretionary items and into more services-oriented expenditures. Additionally, U.S. Bancorp highlighted that the growth in savings is flattening out, given inflationary pressures spending is outpacing income, and the consumer is being forced to dip into their savings. Synchrony Financial, a consumer finance company, supported those comments. They noted that 2/3rds of individuals that received stimulus checks in the pandemic have only spent a portion or have the entirety of their stimulus checks saved. Those balances are starting to be worked down with purchase volumes on Synchrony's cards up 16%, with non-discretionary categories gaining share. Within the grocery channel, they are seeing customers manage ticket size and some product substitution with the consumer trading down from brands to private label.
From a consumer credit performance standpoint, we are starting to see some normalization in credit; early stage delinquencies in the low-income cohort are beginning to rise from historically low levels. Along those same lines, AT&T had negative comments on their weakest customers. They are seeing customers extend payment timelines and have increased their bad debt reserve, a sign of future expected losses, as a result.
While consumers continue to spend, we are starting to see the effects of higher inflation as they are being forced to dip into savings, payment timelines are expanding, and the consumer faces choices in prioritizing their spending, especially at the low end.
Business demand held up well during the second quarter. Prologis, an owner/operator of industrial warehouse space, continues to see strong demand trends. The company noted that they are witnessing businesses increase inventories to get ahead of the rising cost of goods and build safety stocks. The latter they see as a potential secular driver for their business as their customers move away from just-in-time inventory. This trend aided in 52% of their upcoming leases having proposals; well above the pre-pandemic level of 38%. US Bancorp noted a similar trend where loan growth in the quarter was solid, supported by higher revolver utilization. Their customers continue to have working capital needs and have been building inventories. JB Hunt, a freight logistics company, noted that one of the strongest parts of their business in the quarter was their warehouse-to-store routes. Though inventories at warehouses are elevated, it appears the stocks in the stores need to be replenished.
Kinder Morgan, a pipeline transportation and energy storage company, also had comments supporting aggregate demand levels. The company noted that their deliveries to Utility companies were up 7% compared to last year. This is a positive read on general business activity. If manufacturing were experiencing a slowdown, we would expect shifts to be cut, resulting in more downtime and less energy demand from the utility providers.
Kinder Morgan also reaffirmed the change in spending towards more travel and dining experiences as Jet fuel demand increased 19% in the quarter.
Where there were signs of demand destruction was in their on-road fuels segment. Discover Financial called this out as an area of weakness where at-the-pump card volumes were softer. The rise in gasoline prices that occurred during the quarter is having an impact on the number of trips. This would typically be a negative readthrough for the do-it-yourself auto parts retailers. Typically, their revenues are correlated to miles driven, given more wear and tear on the vehicle.
Overall, the tone from management teams this week was similar to last. Most of the companies we heard from over the past week continue to point to resilient consumer spending behavior. However, there is some shift in the consumption patterns. Likewise, on the business side, aggregate demand continues to hold in there, with many management teams saying they are just not seeing signs of a slowdown yet.
What goes up must come down
For nearly two years now, estimate revisions have only gone in one direction. Coming out of the pandemic, as the world reopened, estimates increased aggressively. However, we now believe that we are closer to the end of the cycle and slowing growth will lead to negative earnings revisions.
We are starting to see the beginning of an earnings downgrade cycle with significant deterioration in earnings breadth, a rise in the number of companies lowering vs. raising guidance, and 2023 earnings estimates peaking in June at $252. In fact, since the end of the second quarter, the S&P EPS estimate for 2023 has fallen 1%, and every sector except for Energy is experiencing negative revisions.
Management commentary on business performance remains constructive, but the consensus earnings outlook has begun to deteriorate. As a result, we reiterate our call to be positioned within high-quality businesses that are less economically sensitive and have lower earnings variability.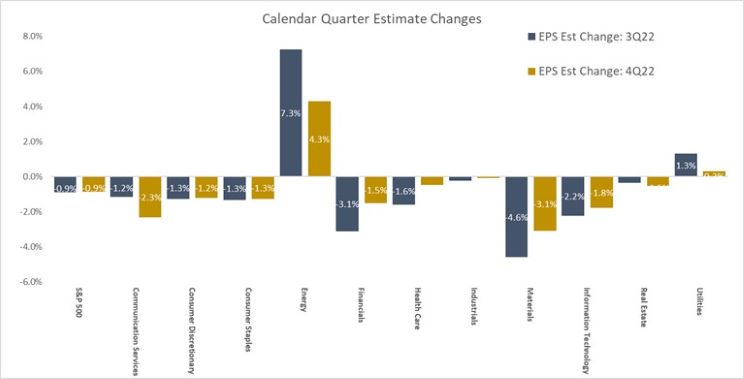 Source: FactSet Estimates, Harbor Capital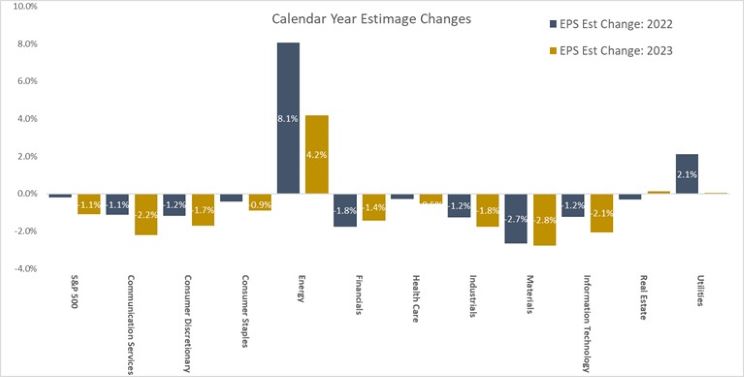 Source: FactSet Estimates, Harbor Capital
For more information, please
access
our website or contact us at
1-866-313-5549
.
---
Important Information
The views expressed herein are those of Harbor Capital Advisors, Inc. investment professionals at the time the comments were made. They may not be reflective of their current opinions, are subject to change without prior notice, and should not be considered investment advice. The information provided in this presentation is for informational purposes only.
Performance data shown represents past performance and is no guarantee of future results.
Forecast and estimates are based on hypothetical assumptions and for informational purposes only. This material does not constitute investment advice and should not be viewed as a current or past recommendation or a solicitation of an offer to buy or sell any securities or to adopt any investment strategy. The information presented does not represent the results that any particular investor may actually attain. Actual results will differ, and may differ substantially, from the hypothetical information provided.
Indices listed are unmanaged, and unless otherwise noted, do not reflect fees and expenses and are not available for direct investment.
Investing entails risks and there can be no assurance that any investment will achieve profits or avoid incurring losses.
Harbor Capital Advisors, Inc.