August update to the Q2 2021 Viewpoints
Anatomy of a Supply Shock
In recent months we've experienced downward revisions to real GDP, upward revisions to inflation, and flat nominal GDP.

Tactical Asset Allocation – As of August 2021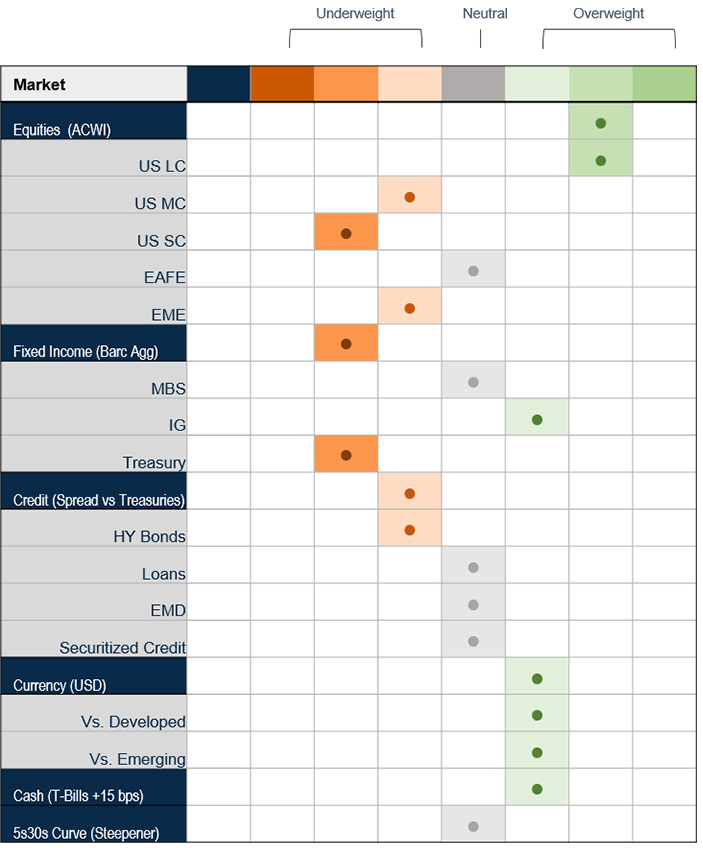 Updated Perspectives
The global economy is in the midst of a negative supply shock from the pandemic which resulted in decreased production, a resultant rise in prices, and a corresponding shift down in real unit demand (price elasticity and demand destruction). In theory, a negative supply shock results in a fairly unchanged level of nominal GDP, but there is a composition change whereby real growth is revised down (unit volume declines) and inflation is revised up (prices move higher). This is precisely what we've been seeing since May.

What does this mean for capital markets? Corporate earnings are nominal, not real, and therefore steady nominal GDP estimates have not resulted in downward earnings revisions despite a recent reduction in real GDP estimates for Q3. We believe the negative supply shock will not fully resolve until later in 2022 or early 2023, but we do think inflation has peaked and will continue to decelerate from here.

Markets were alarmed by the Fed's rhetoric and published dot plot from the June FOMC meeting, but Powell successfully re-established credibility in Flexible Average Inflation Targeting (FAIT) at Jackson Hole. If elevated inflation does not cause the Fed to prematurely tighten, then risk assets can continue to perform well.
MAST Major Bank 2021 Growth and Inflation Estimates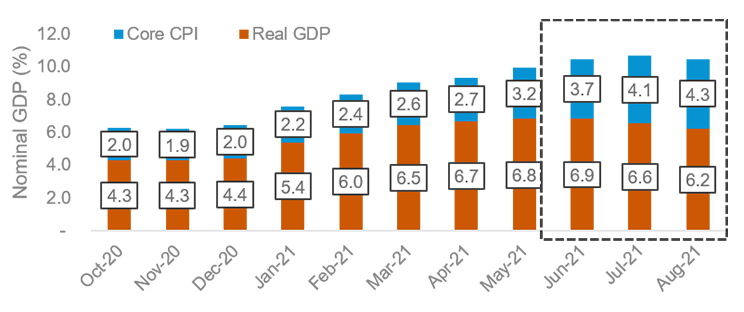 Source: MAST, Bloomberg L.P., major banks include JP Morgan, Bank of America, Citigroup, Credit Suisse, Deutsche Bank, Goldman Sachs, Morgan Stanley and Wells Fargo; September 2021
Updated Perspectives – In Detail
Business Cycle & Growth Cycle: China remains a significant impediment to global growth, and this is not getting better based on our China Business Cycle Index (BCI), which continues to deteriorate further and recently transitioned into a "Contraction" regime from "High Risk Expansion". This does not necessarily mean that China is likely to enter a sustained recession imminently, but the economic slowdown is not trivial and the risk of a recession is elevated at the present time. The issues around a potentially imminent bankruptcy from China's second largest property developer, Evergrande, are only exacerbating the slowdown as financial conditions tighten on the back of credit spread widening in the sector, capital flight from China more broadly, and slowdown in real estate construction activity. These issues began last year as China introduced its "three red lines" policy in an attempt to prevent a bubble in real estate. The more recent policy induced economic slowdown in China appears to have been enough to push Evergrande over the edge. In early 2021 we identified that monetary conditions were tightening and growth was slowing and have been underweight China since Q1 as a result. We continue to remain underweight as our business cycle and growth cycle models still show economic momentum deterioration. The U.S., Europe and Japan also continue to decelerate in rate of change terms, although Europe's pace of deceleration is more attractive than the U.S. and Japan. U.S. equities, however, tend to outperform in a growth deceleration regime given the higher quality bias of the region and elevated exposure to secular growth and lower volatility sectors vs. Europe and Japan.

Liquidity Cycle (Monetary Policy): The two liquidity cycles we are paying most attention to right now are in China and the U.S. The PBOC has been tightening financial conditions in China since Q4 of 2020 to prevent inflation; our monetary conditions composite for China picked up on this right away and continues to deteriorate. We are not seeing money and credit growth accelerating in the country despite the belief that Beijing will eventually begin easing as growth has slowed quite meaningfully in the last 12 months. We do not expect growth to begin accelerating in China and Asian EM until the PBOC begins easing, so we maintain our underweight for now. Shifting gears to the Fed, we believe that the Fed is on pace to begin tapering their asset purchases in Q4 and end at some point in mid 2022. This will provide the FOMC with some optionality in terms of timing an initial liftoff in short rates should realized inflation prove more persistent than expected. We also believe that the Fed regained market credibility in FAIT after Powell's presentation at Jackson Hole as a result of hitting on two key points: 1) separating the Fed's decision regarding taper from the Fed's decision on rate hikes and how the bar for the latter is much higher than the bar for the former, and 2) acknowledging the structural disinflationary forces at play in the US economy.

Valuation & Expected Returns: Our equity risk premia model continues to see ~10% upside to the S&P 500 Index over the next 12 months primarily due to earnings growth and fairly low interest rates. This assumption is based on our 12-month forward projection of 1.55% for the 10-year UST yield. We see the 10-year yield of ~1.30% as very close to our current fair value and think it will oscillate between ~1.20% and ~1.40% for now. We do not find duration to be attractively priced at the present time from a nominal return standpoint, but do believe that it offers compelling portfolio protection when yields are close to our fair value and therefore do not want to shorten duration further. We prefer exposure to equities rather than HY credit given tight spreads.

Portfolio & Strategy Takeaways: We are not making any changes to our portfolios this month. We maintain a tactical overweight to equities, a small underweight to credit, and an underweight to fixed income and duration. Within equities, we are balanced across styles but have tilted further into higher quality equities in recent months as well as concentrating our regional bet primarily in U.S. equities. We remain underweight EM and particularly China.
---
Legal Notices & Disclosures
The views expressed herein are those of the Harbor Multi Asset Solutions Team at the time the comments were made. They may not be reflective of their current opinions, are subject to change without prior notice, and should not be considered investment advice. These views are not necessarily those of the Harbor Investment Team and should not be construed as such. The information provided is for informational purposes only.
Past performance is no guarantee of future results.
The information shown relates to the past. Past performance is not a guide to the future. The value of an investment can go down as well as up. Investing involves risks including loss of principal.
All investments are subject to market risk, including the possible loss of principal. Stock prices can fall because of weakness in the broad market, a particular industry, or specific holdings. Bonds may decline in response to rising interest rates, a credit rating downgrade or failure of the issue to make timely payments of interest or principal. International investments can be riskier than U.S. investments due to the adverse affects of currency exchange rates, differences in market structure and liquidity, as well as specific country, regional, and economic developments. These risks are generally greater for investments in emerging markets.
Fixed income securities fluctuate in price in response to various factors, including changes in interest rates, changes in market conditions and issuer-specific events, and the value of an investment may go down. This means potential to lose money.
As interest rates rise, the values of fixed income securities are likely to decrease and reduce the value of a portfolio. Securities with longer durations tend to be more sensitive to changes in interest rates and are usually more volatile than securities with shorter durations. Interest rates in the U.S. are near historic lows, which may increase exposure to risks associated with rising rates. Additionally, rising interest rates may lead to increased redemptions, increased volatility and decreased liquidity in the fixed income markets.
Investing entails risks and there can be no assurance that any investment will achieve profits or avoid incurring losses.
Harbor Capital Advisors, Inc.