Asset Allocation Viewpoints & Positioning Update
July update to the Q2 2021 Viewpoints
When The Data Changes, You Change
We are increasing the quality of our portfolio across equities and fixed income as growth slows and the Fed tightens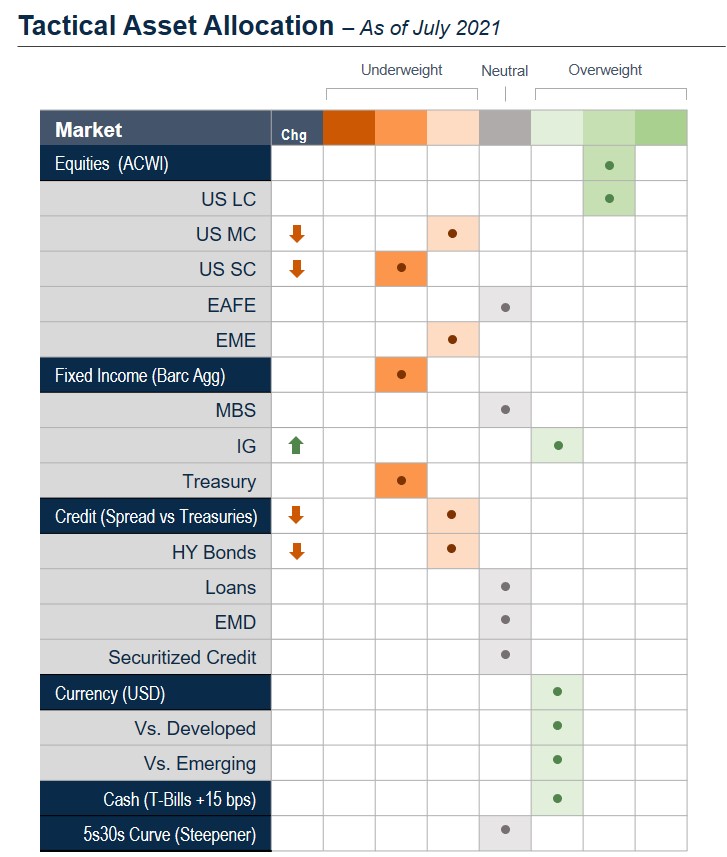 Updated Perspectives
· Growth Momentum:
Although global growth levels remain strong, we expect global growth deceleration to persist over the coming months and quarters as the global economy slows to trend growth levels.
· Liquidity Cycle (Monetary Policy):
Employment growth is accelerating, inflation remains high, and bond market inflation expectations are still anchored near ~2% in the U.S.; this is all nudging the Fed to tighten sooner rather than later.
· Valuation & Expected Returns:
Our equity risk premium model (values equities relative to interest rates) forecasts a ~10% total return for the S&P 500 over the next 12 months; our current estimate for the fair value of the 10 year UST yield is ~1.25% and we see yields oscillating between ~1.15% and ~1.45%. We think the 10 year can rise to ~1.40 to ~1.80% by YE 2022.
· Portfolio & Strategy Takeaways:
U.S. equities, quality, growth and defensive equities perform best in a decelerating growth regime. We retain our equity overweight driven by U.S. equities, move to underweight in small and mid cap, tilt towards higher quality stocks (e.g. Harbor Strategic Growth), and move to an underweight in lower quality credit (HY).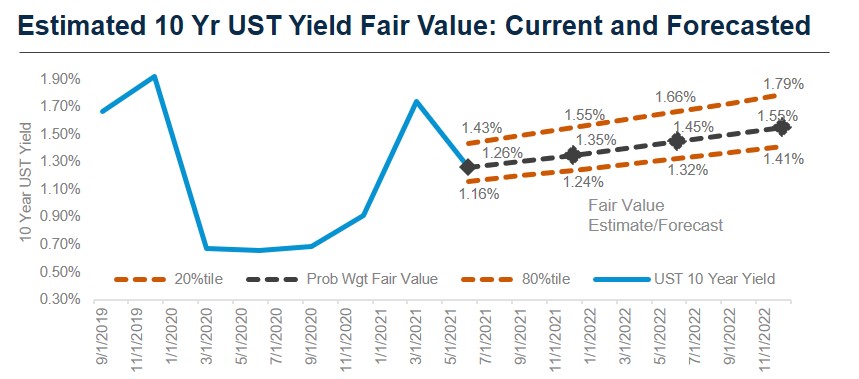 Source: Harbor MAST, Bloomberg, July 2021
Updated Perspectives – In Detail
Growth Momentum
We are officially in a global growth slowdown, albeit from elevated levels. China was the first country to enter the Covid crisis, and therefore the first to emerge. China growth has been decelerating since Q4 of 2020 as the PBOC began tightening credit conditions to protect against inflation (something we're seeing in the U.S.). Combine monetary tightening with China's strategy on COVID-19 to pursue zero new infections (which means persistent rolling shutdowns), and also Xi Jinping's regulatory crack down across industries and you have a tsunami of negative momentum impacting China's domestic economy, Asia Emerging Markets, and the global reflation trade. The U.S. is also experiencing decelerating growth along with elevated inflation, a potentially challenging backdrop given how it may influence the Fed to tighten into a growth slowdown. Europe growth has reached peak and we expect the economy to begin decelerating from here. Our models are currently pointing to low recession risk in China, Europe, Japan and the U.S., which means we should continue along the global expansion, but at a slowing pace. Given this backdrop, we are increasing the quality of our portfolio and reducing exposure to assets that have leverage to GDP growth momentum.
Liquidity Cycle (Monetary Policy)
Employment growth is accelerating, something we've been expecting for several months now, and we think this will continue. A strong labor market will catalyze the Fed to act sooner on taper and potentially even rates. This reflects our theme "good data is bad data" which we've been communicating lately. Moreover, inflation remains high. We continue to believe that most of the elevated inflation currently is not driven by structural dynamics that would cause it to persist for years. We believe it is due to high levels of fiscal stimulus supporting nominal incomes in the U.S. and an economy where demand has largely come back online early in 2021 but supply has not. We expect inflation to decelerate but remain above 2% next year. Nevertheless, the Fed has communicated that they believe their "inflation overshoot" goal has been met in just the last 4 months. Therefore, any elevated inflation from here may pressure the Fed to tighten sooner. We've seen short rates rise and long rates fall consequently. We do, however, think that inflation will decelerate into 2022, bottom at some point perhaps in the 2nd half, and then reaccelerate from fundamental drivers of inflation such as a tightening labor market and closing output gap. Our base case assumption is that the Fed begins tapering later this year, finishes tapering some time in mid 2022, and by then inflation should be much more under control. If that indeed happens, we could see a dovish Fed pivot. Until then, however, the market will likely continue to worry about the Fed tightening too soon.
Valuation & Expected Returns
Our equity risk premium model forecasts a ~10% total return for the S&P 500 over the next 12 months; our current estimate for the fair value of the 10 year UST yield is ~1.25% and we see yields oscillating between ~1.15% and ~1.45%. We think the 10 year can rise to ~1.40 to ~1.80% by YE 2022. The 10 year currently is close to our fair value, so we do not see much opportunity here to be short of long duration in terms of how rates may move. We do, however, continue to prefer equities over both duration and now also credit.
Portfolio & Strategy Takeaways
We remain positive on equities, but focus our o/w entirely in U.S. equities given the presence of higher quality businesses. In the current regime, higher quality business perform well and therefore U.S. equities tend to outperform. We are sticking with this positioning. We continue to be balanced between growth and value equities, but we've moved to underweight in small and mid cap and shifted that capital to Harbor Strategic Growth (large cap quality growth). We view low beta quality growth as a very attractive style considering the current backdrop. We are fairly balanced in Europe but are expressing most of our position in Acadian right now. We are sticking with our u/w to Emerging Markets and China in particular by owning Marathon as we are not ready to allocate to the region despite attractive valuations. We need to see an improvement in both growth momentum and the liquidity cycle in China before we would consider closing our underweight. We have also moved to an u/w on credit and particularly U.S. high yield. We think spreads are very tight and over a multi-year period there is more A-symmetric risk to spreads widening rather than tightening and therefore prefer to be in higher quality fixed income expressed through the Harbor Bond Fund.
Legal Notices & Disclosures
The views expressed herein are those of the Harbor Multi Asset Solutions Team at the time the comments were made. They may not be reflective of their current opinions, are subject to change without prior notice, and should not be considered investment advice. These views are not necessarily those of the Harbor Investment Team and should not be construed as such. The information provided is for informational purposes only.
Past performance is no guarantee of future results.
The information shown relates to the past. Past performance is not a guide to the future. The value of an investment can go down as well as up. Investing involves risks including loss of principal.
All investments are subject to market risk, including the possible loss of principal. Stock prices can fall because of weakness in the broad market, a particular industry, or specific holdings. Bonds may decline in response to rising interest rates, a credit rating downgrade or failure of the issue to make timely payments of interest or principal. International investments can be riskier than U.S. investments due to the adverse affects of currency exchange rates, differences in market structure and liquidity, as well as specific country, regional, and economic developments. These risks are generally greater for investments in emerging markets.
Fixed income securities fluctuate in price in response to various factors, including changes in interest rates, changes in market conditions and issuer-specific events, and the value of an investment may go down. This means potential to lose money.
As interest rates rise, the values of fixed income securities are likely to decrease and reduce the value of a portfolio. Securities with longer durations tend to be more sensitive to changes in interest rates and are usually more volatile than securities with shorter durations. Interest rates in the U.S. are near historic lows, which may increase exposure to risks associated with rising rates. Additionally, rising interest rates may lead to increased redemptions, increased volatility and decreased liquidity in the fixed income markets.
Investors should carefully consider the investment objectives, risks, charges and expenses of a Harbor fund before investing. To obtain a summary prospectus or prospectus for this and other information, visit harborfunds.com or call 800-422-1050. Read it carefully before investing.