Macro Landscape: As The Pendulum Swings; A Journey Back Towards Equilibrium
Since March 2020, the U.S. Government has spent approximately $5.0 Trillion in fiscal stimulus and the Federal Reserve (Fed) has expanded its balance sheet by $4.7 Trillion. Further, the Federal Funds rate still remains far below neutral.
All of this despite the economy's V-shaped rebound from the COVID-19 recession and above trend real and nominal growth since Q3 2020.
This has created several states of disequilibrium in the economy:
Overheating housing market,
Real (and nominal) growth above potential,
Excessively tight labor markets, and
Punitively high inflation.
We believe these states of disequilibrium will reverse as the Fed endeavors to bring the economy back into equilibrium, whether by hook or by crook. Tightening financial conditions are the policy channel by which the Fed will achieve this.
Growth levels remain strong and above trend, but not for long; monetary policy acts with a 12-15 month lag, and the Fed will eventually be successful in slowing growth. As the old adage goes: "Don't fight the Fed."
The Russian war in Ukraine has exacerbated the inflation crisis and changed the geopolitical landscape, but the Strategic Petroleum Reserve releases scheduled for the next six months should help to bring the crude oil market into balance for Q2 and Q3; however, the set up remains for a very tight oil market in 2023.
Key risks:
Inflation: what is the new equilibrium growth in prices post COVID-19?
Fed's willingness to cause a recession to bring inflation back to 2.0%
Further sanctions against Russia or Russian provocations expanding beyond Ukraine's borders
Corporate margins – slowing growth and high inflation may reduce profitability
---
Tactical Asset Allocation & Market Themes
Equity Markets
We move equities to neutral following the recent rally starting in mid-March as equities have reached fair value relative to interest rates. We also further increase our exposure to defensive sectors such as Healthcare. We are officially underweight risk for the first time since the COVID-19 recession both within our equity portfolios, given our overweight to defensive and high-quality sectors/styles, and across our broader multi-asset portfolios given our large underweight to credit.
Importantly, the year-to-date correction in risk assets has been driven by a liquidity-shock as markets price in tighter financial conditions due to increasingly hawkish Fed rhetoric on the path of interest rates as well as quantitative tightening. We think this will continue to pressure equity multiples. Moreover, the liquidity-cycle leads the growth cycle, and we believe the post COVID-19 growth impulse is beginning to fade and growth will slow more dramatically later this year. However, growth currently remains strong and will likely persist above trend for the next several quarters. Therefore, we are neutral equities but overweight defensive sectors and higher quality styles within equities.
Despite re-rating significantly in the last six months, we think growth stocks will continue to be especially interest rate sensitive until they re-rate to even cheaper levels. Given that U.S. equities are over-indexed to growth sectors, we move to neutral U.S. equities, though retain an overweight to large cap and an underweight to small cap. We have also increased EAFE to neutral given very cheap valuations after recent underperformance and reduced EM to neutral as a strengthening USD may continue to act as a headwind.
Fixed Income
Despite the sizable increase in interest rates, we remain modestly underweight fixed income as we think the distribution of outcomes remains skewed towards higher rates in the near-term. However, we think markets will begin to price a higher probability of a recession during the second half. As a result, we will look for tactical opportunities to close our short duration position.
We continue to believe real interest rates are too low, while inflation compensation is too high.
Credit Markets
We think financial conditions will need to tighten further via spread widening leaving us underweight credit. Unfortunately, we anticipate negative returns to continue for most fixed income markets.
---
Asset Allocation Action Items
Downgrade equities to neutral on valuation, worsening liquidity cycle and slowing growth
Move to neutral on EAFE vs. EM vs. U.S.
Increase overweight to defensive sectors, prefer Healthcare and Low Vol
Maintain underweight to duration and credit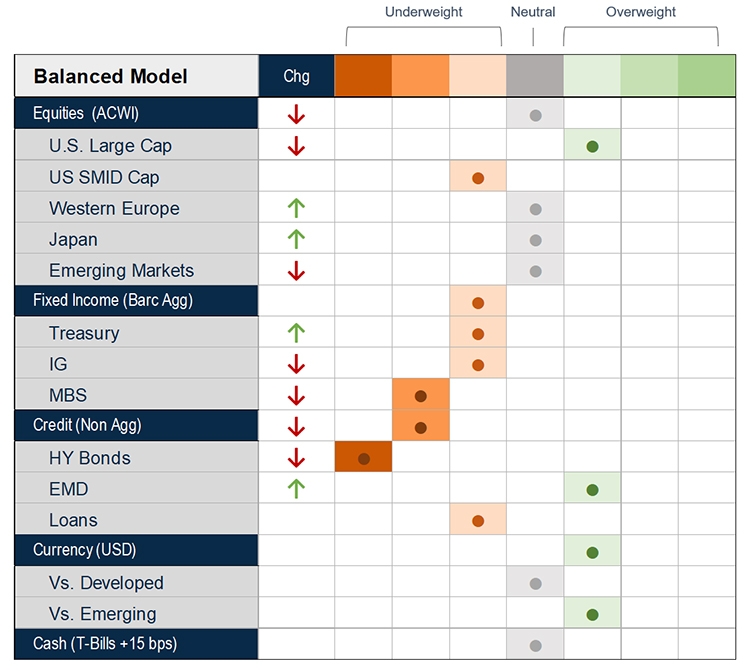 ---
Asset Allocation Views: The Bottom Line
Growth levels remain strong, but the pace of growth continues to slow in the U.S.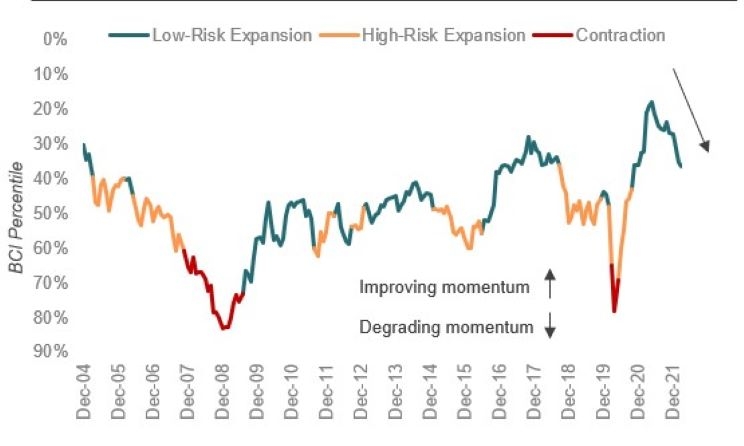 ---
Our growth cycle model still points to a Quad 4 "Slowdown" in the U.S.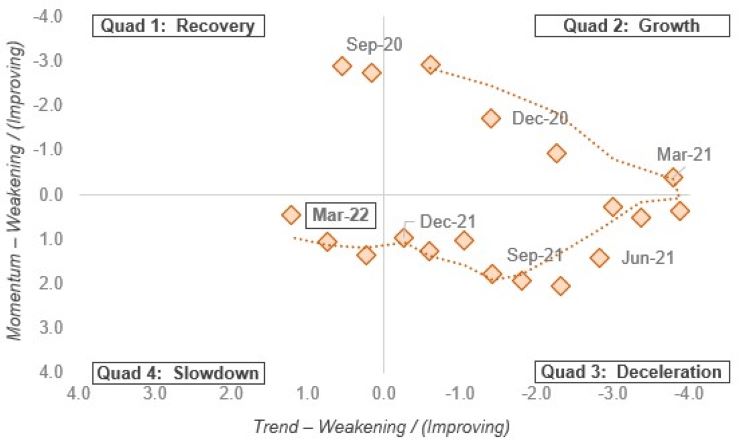 ---
Inflation revised up, growth revised down; nominal GDP expected to remain above trend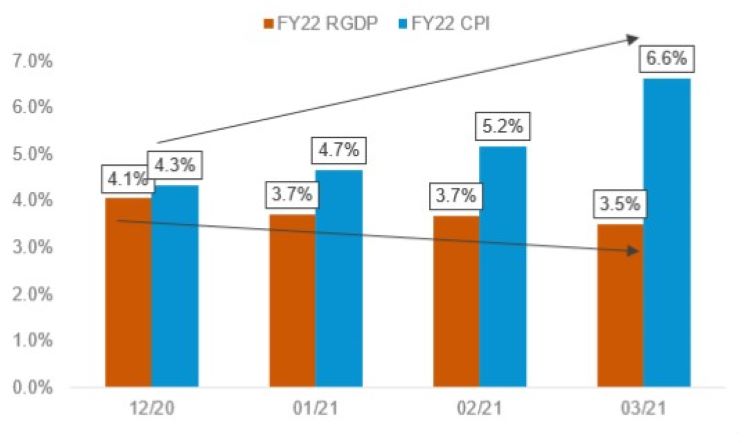 ---
Inflation expected to fall in 2nd half but remain elevated creating a significant problem for the Fed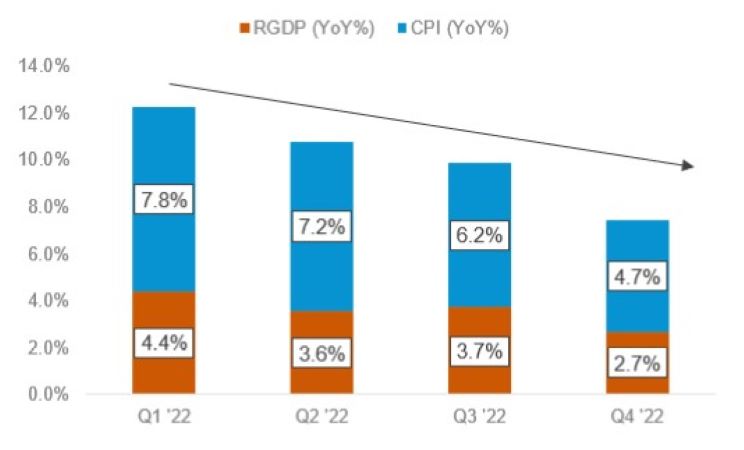 ---
We expect the Fed to continue tightening aggressively in 2022, slowing growth later this year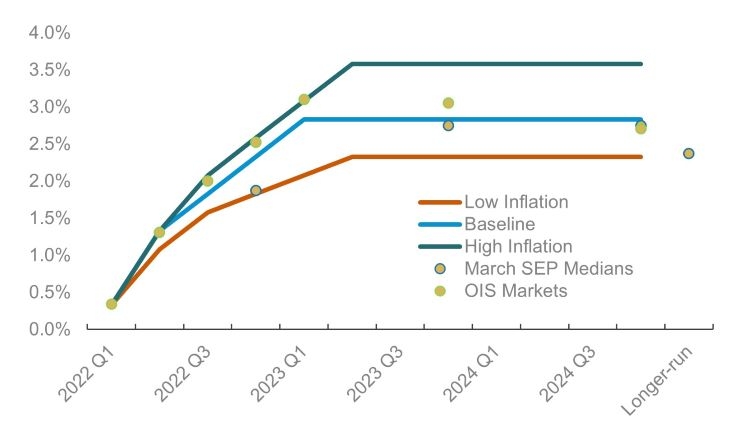 ---
The 10 Year UST yield will likely approach 3.0% as the Fed tightens into above-trend growth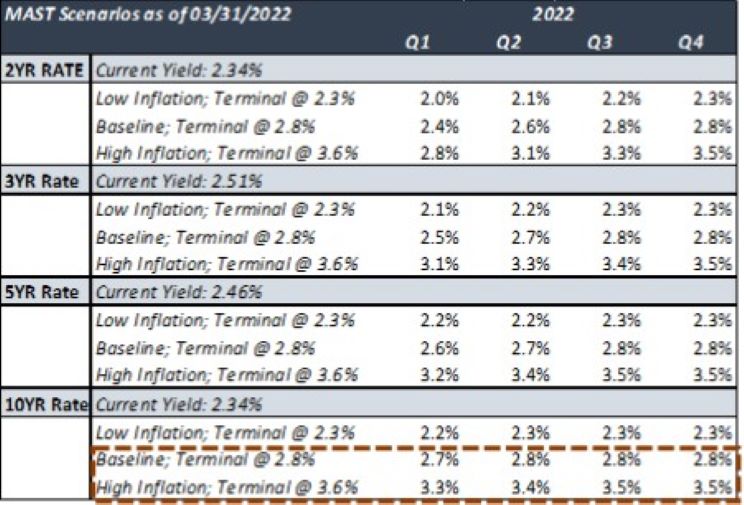 ---
Despite downward growth revisions YTD, corporate earnings are nominal and have trended higher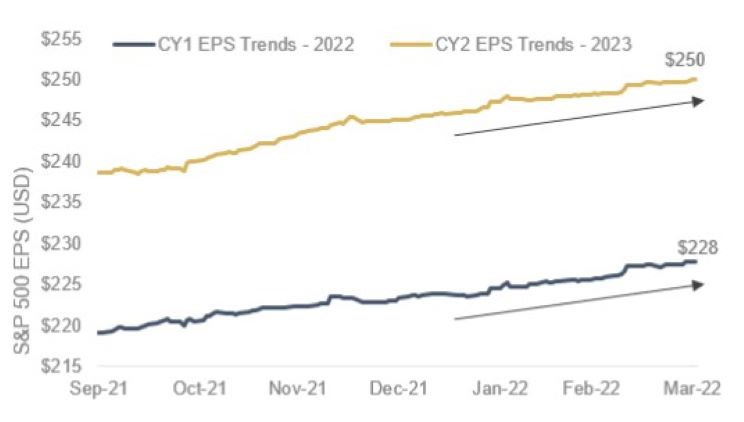 ---
Recently, one-month earnings breadth has turned negative – possible canary in the coal mine?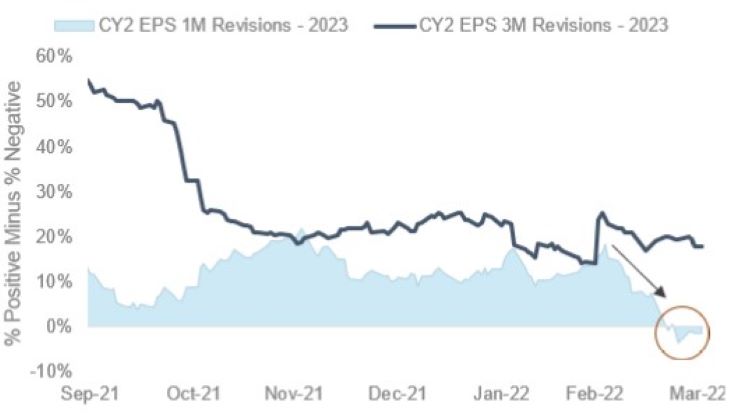 ---
It's too early to position for a recession on the 2s10s curve inverting; growth levels remain strong (for now)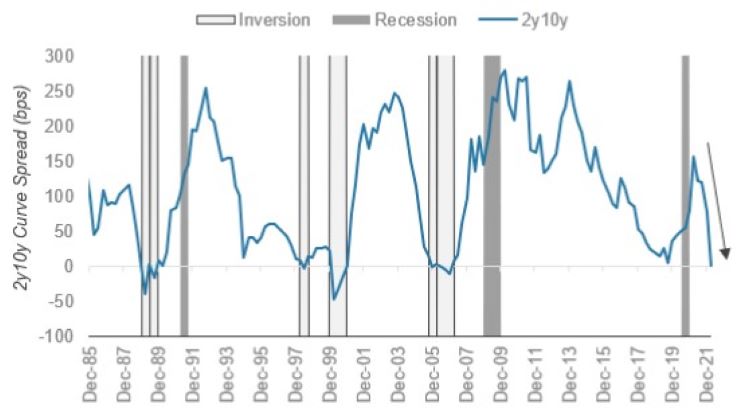 ---
The 3M10Y curve is likely a better near-term recession indicator and continues to steepen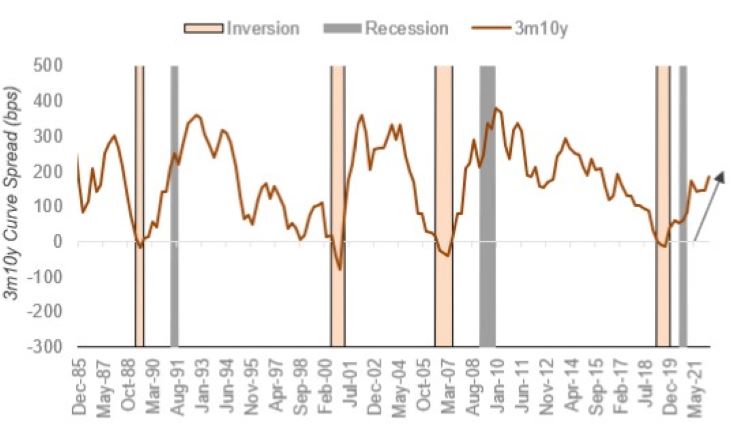 ---
Equities now look about fair on our equity risk premia model as interest rates have risen significantly YTD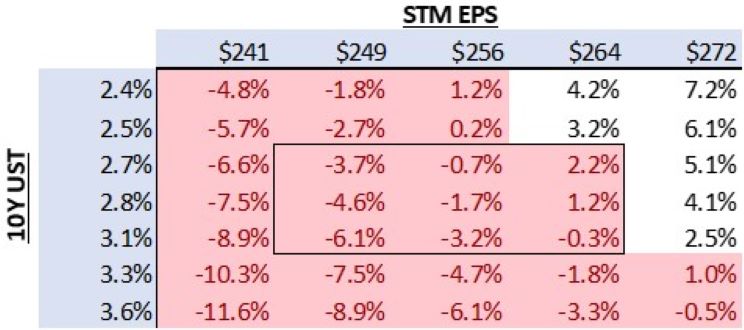 ---
Growth stocks may remain sensitive to rates until they're cheaper; remains a headwind to equity multiples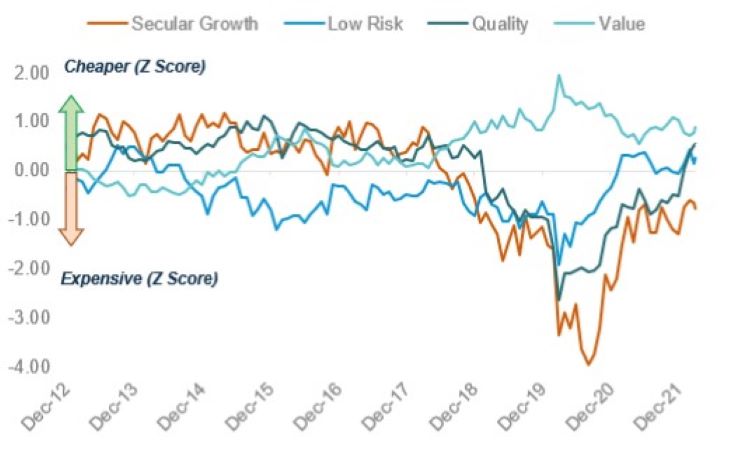 ---
Key Macro Views
Growth levels are strong now, but we believe will slow significantly this year
The Fed is getting aggressive on inflation and will tighten financial conditions, thus likely slowing growth later this year
Inflation will come down this year but remain high, the labor market is simply too tight
Sentiment became overly depressed and drove the recent rally; sentiment now looks neutral
Earnings revisions have remained resilient, but are starting to show signs of weakness; we expect downward revisions in the 2nd half of the year
Growth is too strong to position for a recession, the 2s10s curve flatness reflects expectations of lower future inflation; we prefer the 3M10Y curve which continues to steepen
Equities no longer look attractive on valuation vs. interest rates
The recent correction reflected markets pricing in tightening liquidity conditions; the next phase is likely to be slowing growth that comes as a lagged effect of that tightening liquidity
Growth stock multiples need to come down further before interest rate sensitivity will diminish, still a headwind to equity multiples
China growth will likely take a hit on lockdowns, but expect more monetary easing to compensate
---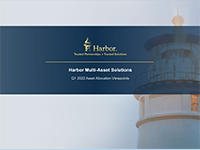 Download a PDF of our full insights, including:
Inflation has become a serious problem.
Within U.S. equities, high growth companies have significantly derated.
We see the Fed hiking aggressively over the course of this year.
---
Legal Notices & Disclosures
The views expressed herein are those of the Harbor Multi Asset Solutions Team at the time the comments were made. They may not be reflective of their current opinions, are subject to change without prior notice, and should not be considered investment advice. These views are not necessarily those of the Harbor Investment Team and should not be construed as such. The information provided is for informational purposes only.
Past performance is no guarantee of future results.
The information shown relates to the past. Past performance is not a guide to the future.
All investments are subject to market risk, including the possible loss of principal. Stock prices can fall because of weakness in the broad market, a particular industry, or specific holdings. Bonds may decline in response to rising interest rates, a credit rating downgrade or failure of the issue to make timely payments of interest or principal. International investments can be riskier than U.S. investments due to the adverse affects of currency exchange rates, differences in market structure and liquidity, as well as specific country, regional, and economic developments. These risks are generally greater for investments in emerging markets.
Fixed income securities fluctuate in price in response to various factors, including changes in interest rates, changes in market conditions and issuer-specific events, and the value of an investment may go down. This means potential to lose money.
As interest rates rise, the values of fixed income securities are likely to decrease and reduce the value of a portfolio. Securities with longer durations tend to be more sensitive to changes in interest rates and are usually more volatile than securities with shorter durations. Interest rates in the U.S. are near historic lows, which may increase exposure to risks associated with rising rates. Additionally, rising interest rates may lead to increased redemptions, increased volatility and decreased liquidity in the fixed income markets.
Harbor MAST BCI Index Sources: Harbor MAST, Bloomberg, Institute of Supply Management, Federal Reserve, Bureau of Labor Statistics, Commodity Research Bureau, National Federation of Independent Business (NFIB), Caixin, European Commission, Japan Machine Tool Builder's Association, Association of American Railroads, American Iron and Steel Institute, Department of Labor, Conference Board, University of Michigan, Redbook Research, National Association of Homebuilders, Mortgage Bankers Association
Harbor MAST BCI and Rate of Change Index Sources: Harbor MAST, Bloomberg, Institute of Supply Management, Federal Reserve, Bureau of Labor Statistics, Commodity Research Bureau, National Federation of Independent Business (NFIB), Caixin, European Commission, Japan Machine Tool Builder's Association, Association of American Railroads, American Iron and Steel Institute, Department of Labor, Conference Board, University of Michigan, Redbook Research, National Association of Homebuilders, Mortgage Bankers Association
Certain forecasts, estimates and returns are based on hypothetical assumptions. It is for informational and illustrative purposes only. This material does not constitute investment advice and should not be viewed as a current or past recommendation or a solicitation of an offer to buy or sell any securities or to adopt any investment strategy. The forecasts, estimates and return presented do not represent the results that any particular investor may actually attain. Actual performance results will differ, and may differ substantially, from the hypothetical information provided.
Indices listed are unmanaged, and unless otherwise noted, do not reflect fees and expenses and are not available for direct investment.
Investing entails risks and there can be no assurance that any investment will achieve profits or avoid incurring losses.