Updated Perspectives Tactical Asset Allocation – As of April 2022
"Know what you know and know what you don't know" as the adage goes; or, using Warren Buffett's vernacular, invest in your circle of competence. Overconfidence bias causes many investors to steadfastly position their portfolios for what they are certain will transpire, but often never does. Our view is as follows: focus on the broad investable themes that you are very confident in during times of uncertainty. The precise level that inflation settles by the end of this year is something we have little confidence in forecasting and would argue that it is perhaps entirely unknowable.
What do we feel confident betting on? Growth will slow dramatically this year, likely led by housing, as a result of financial conditions tightening that started in Q4 of 2021. If inflation persists at high levels, then markets will worry of a policy mistake, and if inflation does not persist then it will be the result of growth slowing meaningfully; either way, headwinds for risk will persist. Lastly, services inflation will continue to run hot, and this will worry the FOMC.
We retain our overall underweight to risk driven by an underweight to credit and an overweight to quality and low volatility equities. We particularly like the Healthcare sector given reasonable valuations and defensive characteristics.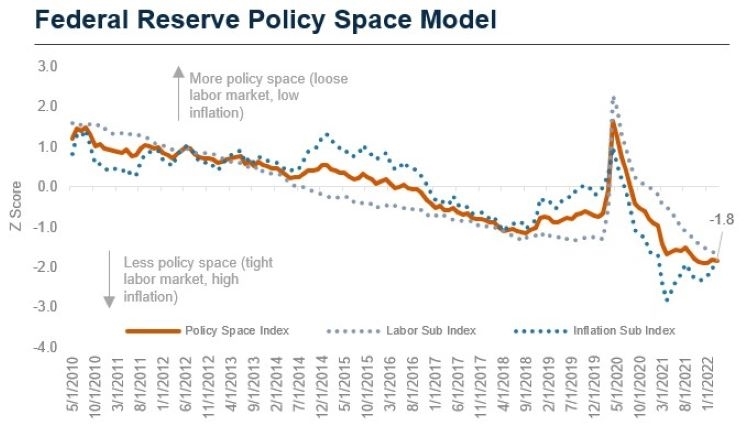 Source: Harbor Capital Advisors Multi-Asset Solutions Team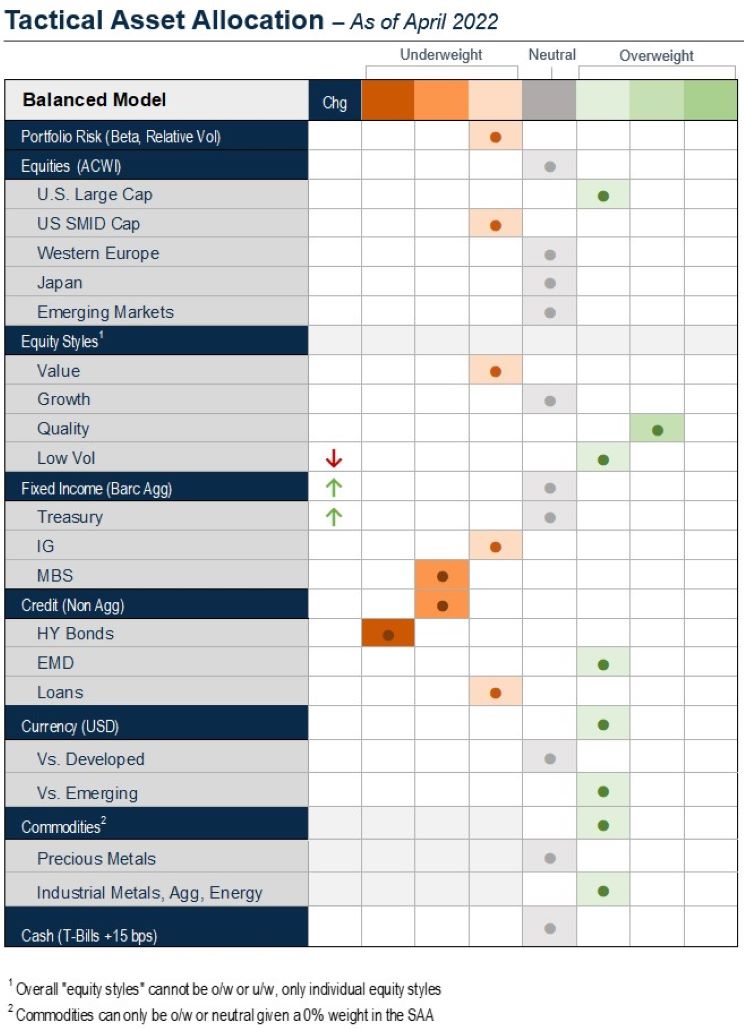 ---
Important Information
The views expressed herein are those of the Harbor Multi Asset Solutions Team at the time the comments were made. They may not be reflective of their current opinions, are subject to change without prior notice, and should not be considered investment advice. These views are not necessarily those of the Harbor Investment Team and should not be construed as such. The information provided is for informational purposes only.
Past performance is no guarantee of future results.
The information shown relates to the past. Past performance is not a guide to the future. The value of an investment can go down as well as up. Investing involves risks including loss of principal.
All investments are subject to market risk, including the possible loss of principal. Stock prices can fall because of weakness in the broad market, a particular industry, or specific holdings. Bonds may decline in response to rising interest rates, a credit rating downgrade or failure of the issue to make timely payments of interest or principal. International investments can be riskier than U.S. investments due to the adverse affects of currency exchange rates, differences in market structure and liquidity, as well as specific country, regional, and economic developments. These risks are generally greater for investments in emerging markets.
Fixed income securities fluctuate in price in response to various factors, including changes in interest rates, changes in market conditions and issuer-specific events, and the value of an investment may go down. This means potential to lose money. As interest rates rise, the values of fixed income securities are likely to decrease and reduce the value of a portfolio. Securities with longer durations tend to be more sensitive to changes in interest rates and are usually more volatile than securities with shorter durations. Interest rates in the U.S. are near historic lows, which may increase exposure to risks associated with rising rates. Additionally, rising interest rates may lead to increased redemptions, increased volatility and decreased liquidity in the fixed income markets.
Indices listed are unmanaged and do not reflect fees and expenses and are not available for direct investment.
The Federal Reserve Policy Space Model extracts and then combines the trend components of the labor market and inflation to anticipate the stance of Federal Reserve monetary policy.
Harbor Capital Advisors, Inc.