Global central banks are deliberately slowing aggregate demand; no major central bank is more intent on that than the Federal Reserve
Updated Perspectives
We have observed over time that equity bear markets resulting from central bank induced monetary tightening usually follow three sequential phases:
Phase 1 reflects falling equity multiples due to rising interest rates as markets discount a more aggressive central bank.
Phase 2 reflects multiples that fall further, but this time from risk premia rising as opposed to rising interest rates. Risk premia rises when markets demand a higher return to compensate for elevated risks; in the case of monetary tightening, the elevated risk is associated with slowing growth and falling cash flows. Phase 2 is essentially the market beginning to discount Phase 3 before it occurs…
Phase 3 reflects an outright decline in earnings (negative earnings revisions) as economic growth slows due to tightening financial conditions.
S&P 500 Return Decomposition YTD through 5/26/22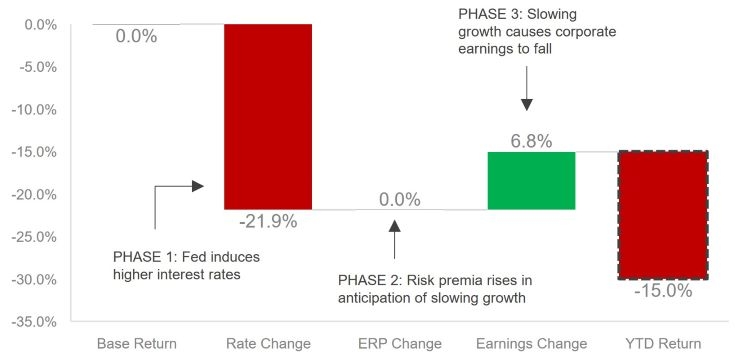 Source: MAST, May 2022
Thus far, the YTD pull back across equities can be entirely confined to Phase 1, or rising interest rates. We believe Phase 2 and Phase 3 will follow over the next six to twelve months. We therefore retain our defensive posture.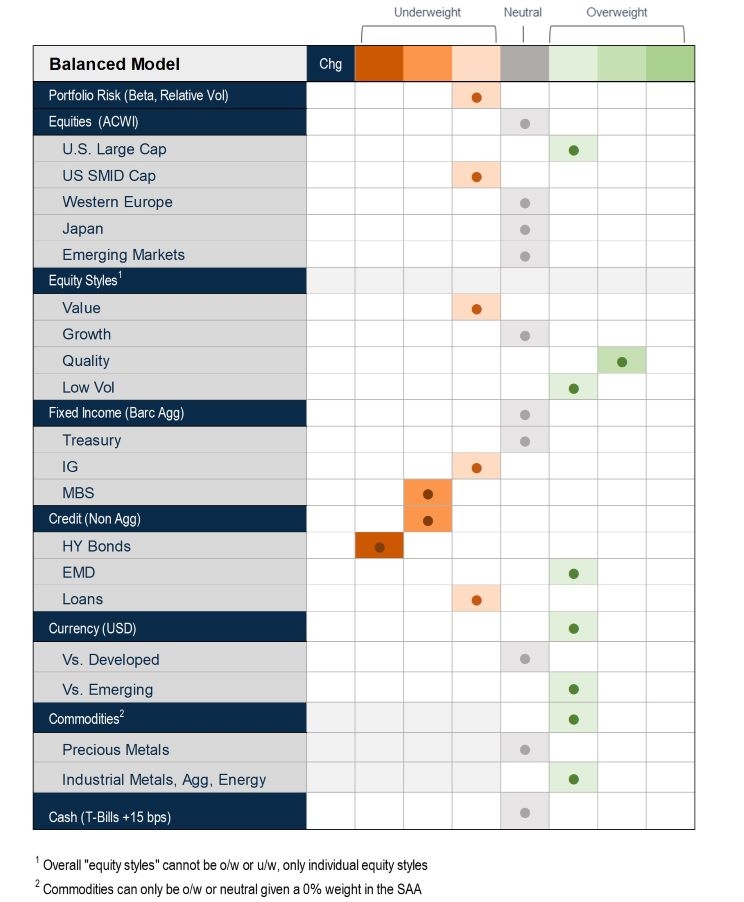 Important Information
The views expressed herein are those of the Harbor Multi Asset Solutions Team at the time the comments were made. They may not be reflective of their current opinions, are subject to change without prior notice, and should not be considered investment advice. These views are not necessarily those of the Harbor Investment Team and should not be construed as such. The information provided is for informational purposes only.
Past performance is no guarantee of future results.
Investing entails risks and there can be no assurance that any investment will achieve profits or avoid incurring losses.
All investments are subject to market risk, including the possible loss of principal. Stock prices can fall because of weakness in the broad market, a particular industry, or specific holdings. Bonds may decline in response to rising interest rates, a credit rating downgrade or failure of the issue to make timely payments of interest or principal. International investments can be riskier than U.S. investments due to the adverse affects of currency exchange rates, differences in market structure and liquidity, as well as specific country, regional, and economic developments. These risks are generally greater for investments in emerging markets.
Fixed income securities fluctuate in price in response to various factors, including changes in interest rates, changes in market conditions and issuer-specific events, and the value of an investment may go down. This means potential to lose money.
As interest rates rise, the values of fixed income securities are likely to decrease and reduce the value of a portfolio. Securities with longer durations tend to be more sensitive to changes in interest rates and are usually more volatile than securities with shorter durations. Interest rates in the U.S. are near historic lows, which may increase exposure to risks associated with rising rates. Additionally, rising interest rates may lead to increased redemptions, increased volatility and decreased liquidity in the fixed income markets.
Indices listed are unmanaged and do not reflect fees and expenses and are not available for direct investment.
2241209