Energy Transition's Foundation is Made of Minerals and Metals: Growth in the Golden Age of Net Zero¹ Infrastructure
---
March 08, 2023
Harbor Capital Energy Transition Strategy ETF (RENW)
The global shift to renewable energy is undeniably in full swing. The only question is how to best make the transition. While policymakers in governments around the world are grappling with this, investors in the capital markets are already making it happen.

Global investment in the low-carbon energy transition ballooned to $1.1 trillion in 2022 – an all-time high, according to BloombergNEF. Clearly, the world understands the urgency of the race to net zero.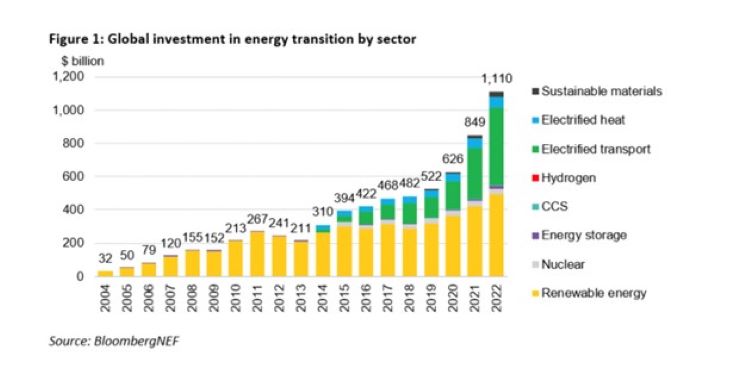 ---
1A target of completely negating the amount of greenhouse gases produced by human activity, to be achieved by reducing emissions and implementing methods of absorbing carbon dioxide from the atmosphere.
Growing demand for energy transition commodities
The infrastructure needed to shift to green energy must be built. To do it, the world will need large amounts of commodities in the form of metals and minerals that make sustainable energy possible.
Post-pandemic, the need to ensure greater economic and social resilience should work in favor of clean energy and distributed power sources, including solar and wind, and the many use cases for battery storage.
Companies are under shareholder pressure to demonstrate that they're responsible corporate citizens. Sourcing sustainable clean energy is one way they're doing so.
Few opportunities for exposure to this theme
Increasingly, investors are seeking to align their money with their values. Investing in commodities that are earmarked to help facilitate the global transformation to renewable energy may fit the bill.
Investors seeking sources of alpha2 and portfolio diversification are finding few options that offer exposure to this long-term investment theme, a focus on commodity futures, and also confer the benefits of an ETF wrapper.
Investors rightly require a seasoned management team with the experience and skills to navigate the unique market conditions of this early infrastructure-building period.
---
2A measure of the active return on an investment, the performance of that investment compared with a suitable
About Harbor Energy Transition Strategy ETF (RENW)
RENW is a fully transparent ETF that seeks to track the performance of the Quantix Energy Transition Index (QET). The index is comprised of commodity futures that serve one of three purposes related to the transition to clean energy:
They are used to construct the new energy infrastructure (for example, copper, aluminum, and silver)
They are "bridge fuels" that are less carbon-intensive and will provide energy between now and the net-zero state (for example, natural gas); or
They incentivize investment in the new energy infrastructure (for example, carbon credits).
Are you looking to:
Potentially capitalize on growth from a long-term global event like the transition to clean energy?
Invest with a reputable process and specialized portfolio manager?
Diversify your exposure to this theme beyond equities using a commodity futures-based, proprietary investment strategy?
Let's continue the conversation about how RENW can offer valuable commodity diversification and a distinct opportunity to participate in the energy transition theme.
Click here to access more information about RENW
Reach out to your financial advisor (866) 313-5549

Important Information

Investors should carefully consider the investment objectives, risks, charges and expenses of a Harbor fund before investing. To obtain a summary prospectus or prospectus for this and other information, visit harborcapital.com or call 800-422-1050. Read it carefully before investing.

Investing involves risk, principal loss is possible. Unlike mutual funds, ETFs may trade at a premium or discount to their net asset value. The ETF is new and has limited operating history to judge. Shares are bought and sold at market price not net asset value (NAV). Market price returns are based upon the closing composite market price and do not represent the returns you would receive if you traded shares at other times.

Commodity and Commodity Linked Derivative Risk: The Fund has exposure to commodities through its and/or the Subsidiary's investments in commodity-linked derivative instruments. The Fund's investments in commodity-linked derivative instruments (either directly or through the Subsidiary) and the tracking of an Index comprised of commodity futures may subject the Fund to significantly greater volatility than investments in traditional securities.

The Fund is non-diversified and may invest a greater concentration of its assets in a particular sector of the commodities market (such as metal, gas or emissions products). As a result, the Fund may be more susceptible to risks associated with those sectors.

Authorized Participant Concentration/Trading Risk: Only authorized participants ("APs") may engage in creation or redemption transactions directly with the Fund.

Energy Transition Risk: The commodities included in the Index may become less representative of energy transition trends over time and the Fund's investments may be significantly impacted by government and corporate policies.

Foreign Currency Risk: Because the Index may include futures contracts denominated in foreign currencies, the Fund could be subject to currency risk.

The Quantix Energy Transition Index (QET) was developed by Quantix with the objective of providing diversified exposure to the building blocks of the accelerating transition from carbon-intensive energy sources to less carbon-intensive sources of energy using commodity futures. Commodity futures that provide exposure to the energy transition theme are considered component candidates for inclusion in the Index. Examples of component commodity candidates include copper, aluminum, nickel, zinc, lead, natural gas, silver, palladium, platinum, soybean oil, ethanol, emissions – European Union Allowances (EUA), and emissions – California Carbon Allowances (CCA). The selection of commodities is subject to periodic review by Quantix Commodities Indices (QCI). Under normal conditions, the Index maintains exposure to at least 10 commodities from its eligible universe in the United States (U.S.), Canada, United Kingdom (U.K.), and other European exchanges. Commodity futures from the component candidates are selected for the Index and weighted based on QCI's quantitative methodology. Under normal circumstances, the Index is rebalanced on a monthly basis.

The index listed is unmanaged and does not reflect fees and expenses and is not available for direct investment.

This article was prepared as Harbor Funds paid sponsorship with TIFIN.

Quantix Commodities LP ("Quantix") is a third-party subadvisor to the Harbor Energy Transition Strategy ETF.

Foreside Fund Services, LLC is the Distributor of the Harbor Energy Transition Strategy ETF.

2781893
---
Locate Your Harbor Consultant
INSTITUTIONAL INVESTORS ONLY: Please enter your zip code to locate an Investment Consultant.