Developing a Growth Mindset
---
June 05, 2023
When determining allocations for an investment portfolio, we know that past performance alone cannot tell the whole story. That said, we would argue that conducting due diligence on schools of thought and style behavior in a variety of macro backdrops may provide a more useful insights when in search of the most appropriate investments for a client. Here at Harbor, we are constantly monitoring macro influences and economic indicators for the benefit of investors. Given the evolving landscape, we now point to the attractiveness of growth investing in particular.
The Inflation Tide is Rolling Out
The U.S. recently experienced an extended period of rising inflation and Consumer Price Index (CPI) readings, both of which began downward trends in the second half of 2022. Periods of moderating inflation such as these in which year-over-year CPI declines on a monthly basis have generally favored large cap growth equities relative to their value counterparts, making an investment in the former a compelling opportunity at present, in our estimation.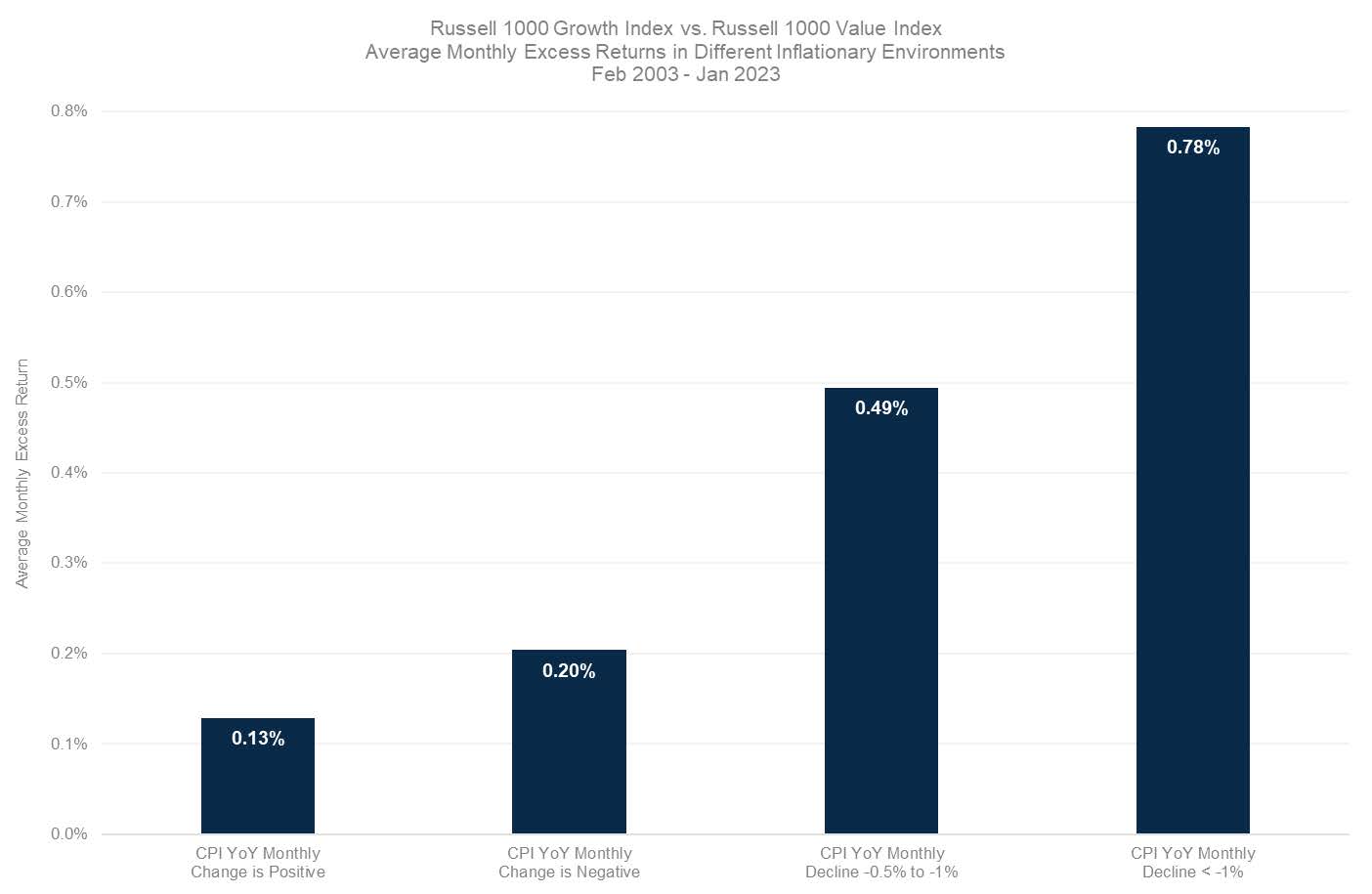 Source: FactSet Research Systems, Morningstar Direct
Performance data shown represents past performance and is no guarantee of future results.
In periods where CPI year-over-year readings have trended downward on a monthly basis, the Russell 1000 Growth Index exhibited more favorable average excess returns versus the Russell 1000 Value Index dating back to Feb 2003. Moreover, when CPI year-over-year monthly declines were bigger, growth delivered larger average excess returns relative to value.
New Day, New Concern to Accommodate
As investors now shift their concern from the cadence of Fed rate hikes and high inflation toward the implications of a potential recession in the U.S., we find it important to recognize those investments that have historically performed well in tough conditions. As exhibited below, the Russell 1000 Growth Index outperformed broad market equities in the 12-month period prior to the low of a recession through the 12-month period following a recession in four of the last six recessions since 1980. Moreover, excluding the dot-com recession in 2001, the Russel 1000 Growth Index provided a 7.2% average excess return during these periods.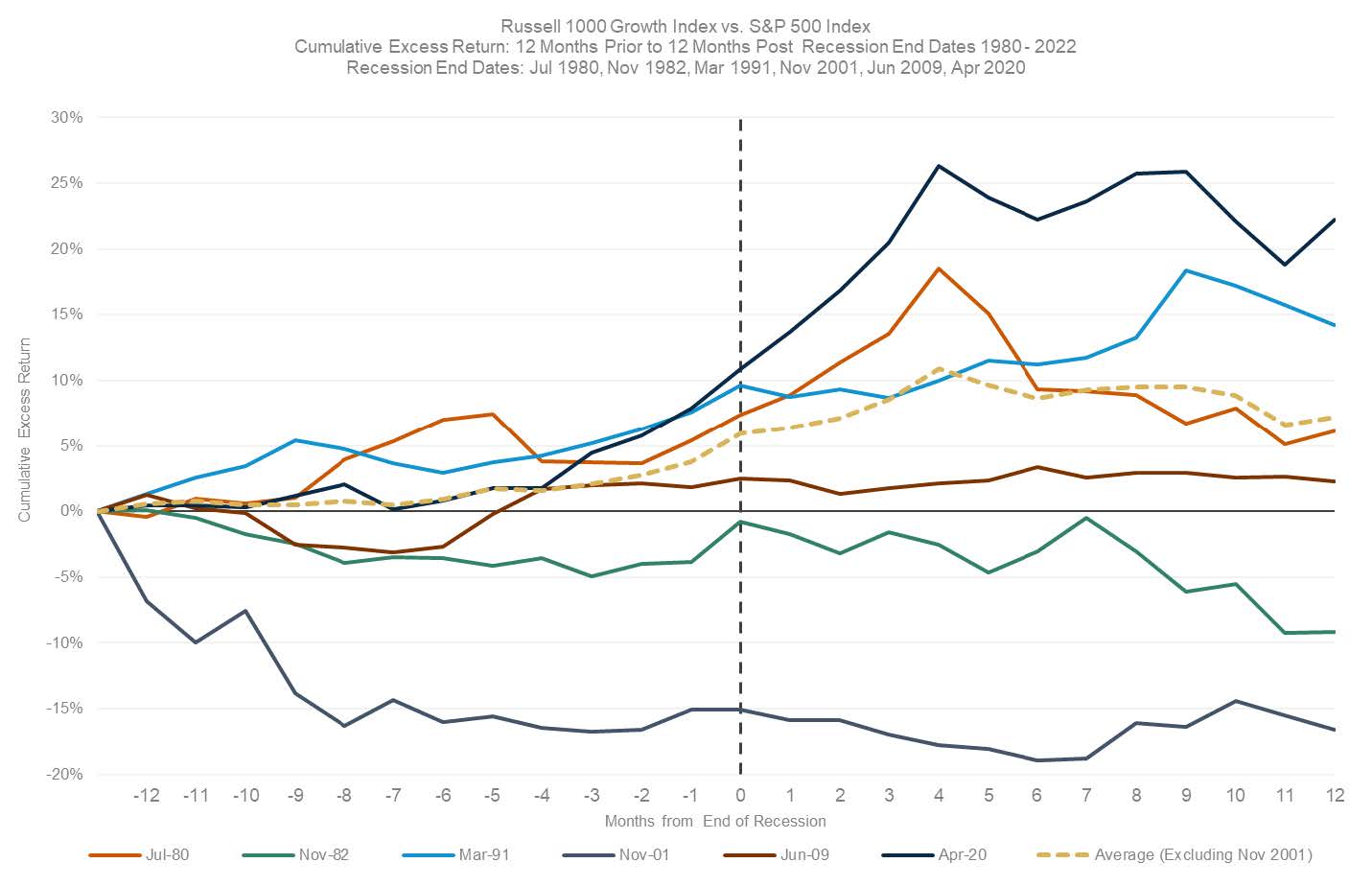 Source: FactSet Research Systems, Morningstar Direct
Performance data shown represents past performance and is no guarantee of future results.
Though investors' worries will never be fully quelled, we recognize that identifying potential solutions derived from data and in an effort to alleviate those jitters can prove to be invaluable to clients. Let Harbor Capital assist in your due diligence and discover more about our thoughtful manager selection process and fiduciary mindset here: Discover Harbor.
Important Information
The views expressed herein may not be reflective of current opinions, are subject to change without prior notice, and should not be considered investment advice or a recommendation to purchase or sell a particular security.
Investing entails risk and there can be no assurance that any investment will achieve profits or avoid incurring losses.
All investments involve risk including the possible loss of principal. Stock prices can fall because of weakness in the broad market, a particular industry, or specific holdings. At times, a growth investing style may be out of favor with investors which could cause growth securities to underperform value or other equity securities.
The Russell 1000® Growth Index is an unmanaged index generally representative of the U.S market for larger capitalization growth stocks. The Russell 1000® Growth Index and Russell® are trademarks of Frank Russell Company. The Standard & Poor's 500 Index is an unmanaged index generally representative of the U.S stock market. These unmanaged indices do not reflect fees and expenses and are not available for direct investment.
The Consumer Price Index (CPI) measures the monthly change in prices paid by U.S. consumers. The Bureau of Labor Statistics (BLS) calculates the CPI as a weighted average of prices for a basket of goods and services representative of aggregate U.S. consumer spending.
2938344
---
Locate Your Harbor Consultant
INSTITUTIONAL INVESTORS ONLY: Please enter your zip code to locate an Investment Consultant.