Balancing Risk and Reward with Dividend Growth Investing
---
July 26, 2023
When looking at long-term investment options for a portfolio, investment styles that seem to transcend market noise make for appealing choices, though they are difficult to come by. In our view, dividend growers provide a unique value proposition for investors given their combination of equity upside participation, downside valuation support and dividend income potential.
Positioning for Capital Preservation and Growth
Although dividend yield strategies typically feature higher yields than dividend growth strategies, they also generally have significantly higher dividend payout ratios. Essentially, this means that companies, on average, are already paying out a higher percentage of current earnings in the form of dividends, which could limit their potential to increase their dividends in the future.
In comparison, dividend growth strategies typically feature lower dividend payout ratios, often affording more flexibility in growing and/or maintaining dividend streams in the future. We believe this will be particularly important as the U.S. economy is set to slow.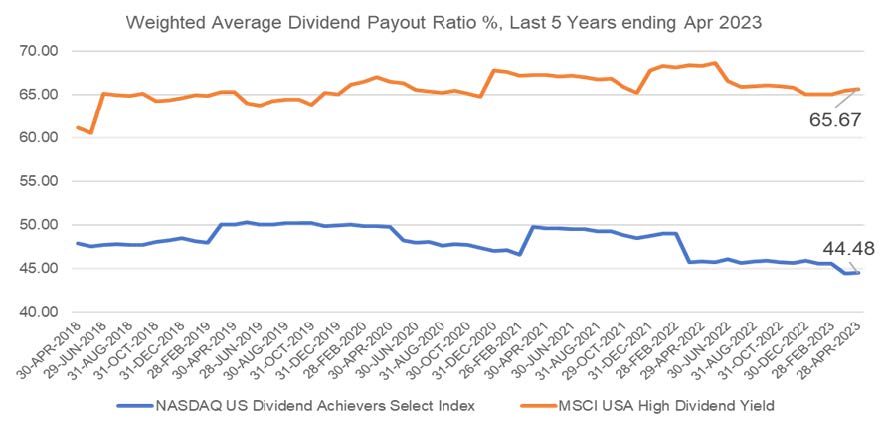 Source: FactSet Research Systems, April 2023
Importantly, we think the market is at a point in the cycle where dividend cuts become increasingly likely. As such, identifying companies that can sustain and grow their dividends is critical to capital preservation and growth, in our view. Should we indeed enter into recessionary territory, we believe that high-quality companies with compounding growth tend to work well both over time and during periods of short-term disruption.
Important Information
The views expressed herein may not be reflective of current opinions, are subject to change without prior notice, and should not be considered investment advice or a recommendation to purchase or sell a particular security.
Investing entails risk and there can be no assurance that any investment will achieve profits or avoid incurring losses. There is no guarantee any company or investing strategy will pay dividends.
All investments involve risk including the possible loss of principal. Stock prices can fall because of weakness in the broad market, a particular industry, or specific holdings.
Earnings per share is calculated as a company's profit divided by the outstanding shares of its common stock.
Weighted average dividend payout ratio is a calculation of dividend payments to shareholders divided by earnings per share.
The S&P 500 Index is an unmanaged index generally representative of the U.S. market for large capitalization equities. The NASDAQ U.S. Dividend Achievers Select® Index is a modified market capitalization weighted index. The NASDAQ U.S. Dividend Achievers Select® Index is comprised of a select group of securities with at least ten consecutive years of increasing annual regular dividend payments. The MSCI USA High Dividend Yield Index is based on the MSCI USA Index, its parent index, and includes large and mid cap stocks. The index is designed to reflect the performance of equities in the parent index (excluding REITs) with higher dividend income and quality characteristics than average dividend yields that are both sustainable and persistent. These unmanaged indices do not reflect fees and expenses and are not available for direct investment.
3027432
---
Locate Your Harbor Consultant
INSTITUTIONAL INVESTORS ONLY: Please enter your zip code to locate an Investment Consultant.