Jake Schurmeier, Portfolio Manager, Multi Asset Solutions Team at Harbor, shares some thoughts on the October 2021 CPI print. Schurmeier notes that continued increases in goods and shelter prices alongside limited labor force participation gains may force the FOMC to increase interest rates sooner.

The recent Consumer Price Index (CPI) data for October printed at 6.2 and 4.6 percent year-over-year for headline and core CPI, respectively, the highest levels since the early 1990s. The prints were well above market expectations for 5.9 and 4.3 percent, respectively. While energy prices were a large contributor to the headline number, rising prices were evident throughout the economy including the closely watched housing sector. For those, including MAST, who thought that price pressures would crest over the next few months before returning to the Fed's 2 percent target in the second half of next year, yesterday's data increases the risk that prices will not fall rapidly enough to justify the Fed remaining on hold once its asset purchase program ends in July of next year. With markets pricing in the risk that the Fed may need to act sooner to counter rising inflation, the Treasury yield curve steepened, and yields increased notably following the data.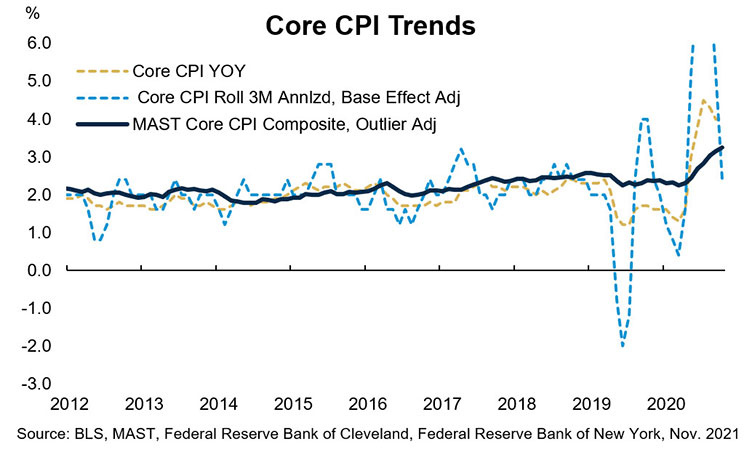 Goods Prices Remain Firm, Shelter Prices Increase Notably
Looking beneath the headline number, we wanted to highlight two subcomponents that frame the 'transitory' vs. 'persistent' inflation debate: goods prices, and shelter. The former consists of non-services items that we consume e.g., cars, apparel, furniture, etc. Goods prices increased rapidly over the past year because of the pandemic as robust consumer demand for durable goods, resulting from elevated savings rates and lower spending on services, met supply chain issues across the globe. The pandemic-induced increase in goods prices reversed a deflationary trend since the financial crisis, during which global supply chains found ever cheaper sources of production for goods. While we expect goods demand to wane as consumers shift consumption towards services e.g., dining out, and supply chains to normalize, it is concerning that goods prices showed little sign of slowing at 8.5% year-over-year in this month's data.1
Services inflation, much of which is more closely linked to the domestic business cycle and wages, is critical for assessing whether recent goods inflation signals pervasive price pressures and whether the Fed will be able to look past rising inflation. For the purposes of CPI, the most important services sector is shelter which has a 33 and 41 percent weighting in headline and core CPI, respectively. Shelter is composed of two primary components: rent of primary residence, and owner's equivalent rent which is the imputed price of owning a home. Given the strength of the housing market over the past year and rents reaching their lows last fall, markets anticipated that shelter inflation would increase in the coming months, as evidenced by this month's 3.5 percent increase year-over-year.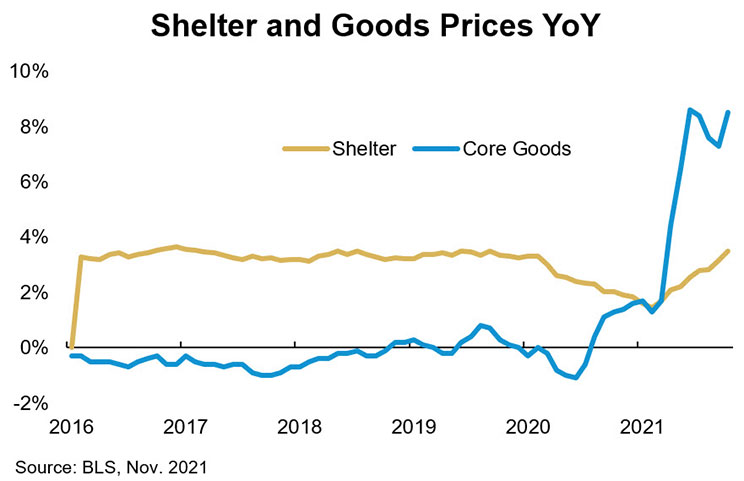 Fed Hoping for Inflation to Slow and Labor Force Participation to Increase
Central to our view is that the U.S. labor market retains considerable slack and that fundamental sources of inflation, like shelter, will remain within tolerable levels for the Fed as supply chains normalize, and inflation expectations remain well-anchored as a result. However, our views on both the labor market and inflation warrant further scrutiny after last week's negligible shifts in labor force participation and further declines in the unemployment rate challenge the former, and the October CPI data challenges the latter. While we expected transitory drivers of inflation captured in goods prices to give way to more fundamental sources of inflation like shelter in 2022, the durability of goods inflation and the rapid increase in shelter could challenge the upper bound of the Fed's tolerance for inflation. Should the labor force prove to be closer to full employment or realized inflation start to materially affect inflation expectations, the Fed may need to respond with rate increases earlier than the end of 2022. 
For more information, please access our website at www.harborcapital.com or contact us at 1-800-422-1050.
Legal Notices & Disclosures
The views expressed herein are those of Harbor Capital Advisors, Inc. investment professionals at the time the comments were made. They may not be reflective of their current opinions, are subject to change without prior notice, and should not be considered investment advice. The information provided in this presentation is for informational purposes only. Derivatives may carry a high level of risk and are not suitable for all investors.

Investing entails risks and there can be no assurance that any investment will achieve profits or avoid incurring losses.
The Consumer Price Index (CPI) is a measure that examines the weighted average of prices of a basket of consumer goods and services, such as transportation, food, and medical care. It is calculated by taking price changes for each item in the predetermined basket of goods and averaging them.
Harbor Capital Advisors, Inc.