Executive Summary
Jake Schurmeier, Portfolio Manager, Multi Asset Solutions Team at Harbor, shares some thoughts from the recent Federal Open Market Committee (FOMC) meeting. Schurmeier believes that the expected near-term burst in inflation will wane over the second half of next year allowing the FOMC to remain patient and hold off on rate hikes until the end of 2022 at the earliest.
---
Markets took the FOMC's decision to begin tapering asset purchases in stride, with attention shifting to how the Committee views the distribution of risks around their inflation forecast and what it means for future rate increases. As was signaled by the Committee in the weeks leading up to the November meeting, the FOMC decided to reduce the monthly pace of asset purchases by $15 billion per month. While Chair Powell emphasized that the reduction in asset purchases was not on a preset course, the bar to change the Committee's approach to its asset purchase plan is high and would require a significant shift in the outlook. As a result, the Fed's asset purchases should cease by July of 2022.
With the decision to taper asset purchases a foregone conclusion at the meeting, market participants were focused on Chair Powell and the Committee's views on inflation, and how it informs any potential trade-off within the Committee's dual mandate for full employment and stable prices. Before discussing the Committee's views on inflation, it's prudent to outline the three-part test that the Committee laid out for future rate increases:
Labor market conditions reach levels consistent with maximum employment.
Inflation has risen to 2 percent.
Inflation is on track to moderately exceed 2 percent for some time.
To the price side of the mandate, headline consumer price inflation is running above 5 percent year-over-year with markets expecting that number to increase further in the months ahead amid persistent supply chain issues, increases in commodity prices, particularly for energy, and robust demand. The persistence of what the Committee deemed to be "transitory" inflation has led markets to price the possibility that the FOMC will be forced to increase rates before reaching full employment to head off inflation. As of this writing, markets are pricing in 2 hikes in 2022, whereas the median FOMC participant saw only half of a hike as of the September meeting and only 3 participants forecasted 2 increases.1 Alongside an earlier start to hiking, markets have priced in a lower terminal rate for this rate cycle in recent weeks i.e. the Fed will need to hike sooner and will be unable to raise rates materially before the economy slows leaving us with a flatter curve.
We Believe the Market is Underestimating the FOMC's Commitment to Full Employment
In our view, markets are following the Fed's old playbook when pricing in early rate hikes and are not fully internalizing the notable shifts in the FOMC's approach to policy over the last decade, a shift mirrored by several other global central banks as well. In August 2020, the Committee concluded a review of its Statement on Longer-Run Goals and Monetary Policy Strategy, a review that preceded the pandemic. There were two major revisions:
The Committee's view on full employment will be informed by shortfalls rather than deviations from maximum employment, while the Committee also emphasized that full employment is a broad-based and inclusive goal.
The Committee adopted flexible average inflation targeting meaning that after periods with inflation running persistently below 2 percent, appropriate monetary policy will likely aim to achieve inflation moderately above 2 percent for some time.
These shifts were informed by structural changes to the economy that we think remain in effect. First, inflation is less responsive to the amount of slack in the labor market i.e. the Phillips Curve is flatter today than historically observed. This declining sensitivity combined with the much lower levels of unemployment during the last cycle amid subdued inflation allow the Committee to be less proactive in heading off inflation. Second, the neutral policy rate i.e. the rate, excluding inflation, at which the economy is growing in line with its potential has declined significantly. The decline in neutral rates leaves the FOMC with less room to decrease interest rates to provide accommodation, assuming they don't entertain negative rates. With less real policy space for the foreseeable future, it became even more imperative for the Committee to ensure that inflation expectations remain anchored at 2 percent to preserve nominal policy space, which led them to adopt a flexible average inflation targeting regime.
Significant Slack Remains in the Labor Market
As Chair Powell repeatedly emphasized in the press conference, the Committee's view of full employment is broad-based and inclusive, and there remains significant slack. Labor force participation remains low at 61.6%, well-below pre-COVID levels of around 63 percent. While some of the decline in the labor force participation rate may reflect permanent exits from the labor market, early retirees come to mind, prime age participation remains significantly below pre-COVID levels as well (Figure 1). Other factors that may be holding back participation today include care responsibilities, fears of COVID, and increased reservation wages for workers amid high personal savings and enhanced unemployment benefits. Furthermore, the last business cycle showed that increases in the participation rate tend to lag declines in the unemployment rate. We expect most of the factors holding back participation to wane over the next 6 months and allow for a better read on whether labor force participation took a permanent hit due to COVID.

Figure 1: Percentage Point Gap to Pre-COVID Participation Levels
Source: Bureau of Labor Statistics, September 2021
Inflation Expectations Are Well-Anchored
As outlined in the prior section, the Fed has passed its two-part test for inflation as headline inflation is running well above 2 percent and is on track to moderately exceed it for some time. Many market participants argue that the original three-part test will be jettisoned and that the Fed will prioritize its price stability goal at the expense of full employment. This argument is predicated on the existence of some threshold of inflation, measured in terms of both the level and persistence, above which the Fed will act that will be surpassed in the months to come. We don't dispute that there is some level of inflation expectations that would force the Fed's hand, however, despite elevated realized inflation, measures of inflation expectations remain within their historical range (Figure 2). This is critical because, according to the Fed's view of the world, it is expectations that drive trend inflation, with deviations around the trend caused by supply and demand shocks. We believe that today's inflation is a product of constrained supply due to the pandemic meeting unprecedented demand as economies reopen, although near-term risks certainly skew towards higher rather than lower inflation.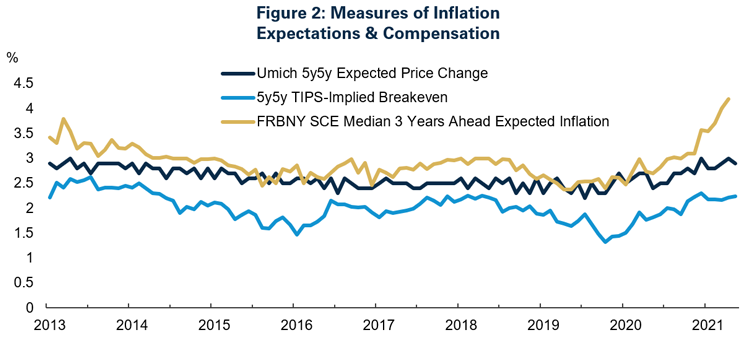 Figure 2: Measures of Inflation Expectations & Compensation
Source: Bloomberg; Federal Reserve Bank of New York; UMich Surveys of Consumers, October 2021
The Fed Often Leads, Rarely Follows
Beyond concerns about elevated inflation in the U.S., critics of the Fed's patience point to the pronounced shift in global central banks' policy stances witnessed over the last two months as evidence that the FOMC is falling behind the curve. Many central banks in advanced economies including Canada, Australia, and New Zealand, to name just a few, have begun to remove policy accommodation whether through interest rate hikes, reduced asset purchases, or other policy changes amid elevated inflation. Emerging market economies have not been spared either as many central banks have been forced to increase interest rates to stem high inflation, often despite weak economic recoveries. While the FOMC is cognizant of the global environment, monetary policy spillovers typically emanate from the U.S. and affect foreign economies rather than the opposite. We acknowledge that foreign central banks' policy decisions could have implications for the dollar, but the dollar would need to significantly weaken to materially affect domestic inflation.
The Expansion Will Continue, Stay the Course
We relate to Chair Powell when he said that this a difficult time to forecast and we note that there is significant uncertainty about what lies ahead. However, we believe that the expected near-term burst in inflation will wane over the second half of next year allowing the Fed to remain patient and hold off on rate hikes until the end of 2022 at the earliest. The main risk to our view on the Fed is that the labor market has less slack than we anticipate, leaving us much closer to the time when it will be appropriate for the FOMC to begin raising rates. Combining our Fed view with healthy indicators abroad, we believe that the global economy will remain in a low-risk expansion for the coming months, leaving us overweight equities in our portfolio.
For more information, please contact us online or via phone at 1-800-422-1050.
Legal Notices & Disclosures
The views expressed herein are those of Harbor Capital Advisors, Inc. investment professionals at the time the comments were made. They may not be reflective of their current opinions, are subject to change without prior notice, and should not be considered investment advice. The information provided in this presentation is for informational purposes only. Derivatives may carry a high level of risk and are not suitable for all investors.
Investing entails risks and there can be no assurance that any investment will achieve profits or avoid incurring losses.
Harbor Capital Advisors, Inc.
---
1
FOMC participants' economic forecasts are submitted every other meeting in the Summary of Economic Projections. The text refers to the median modal estimate for the year-end 2022 Federal Funds Rate, what is commonly referred to as the dot plot.