Macro Landscape
When "Good" Becomes "Bad"
June's FOMC meeting was significant as the Fed affirmed that they will indeed lean against higher inflation and that recent "transitory" price increases do count towards average price targeting

We believe markets are in a repeat of last cycle when "good" economic data becomes "bad" for markets as it catalyzes faster hawkish policy from the Fed
The only "structural" differences from last cycle are 1) elevated fiscal stimulus, and 2) new Fed framework; the former will boost growth in the short term but not the long term, and the Fed just made clear that the latter will be limited in scope; we therefore see prior cycle disinflationary pressures reemerging this cycle
We expect U.S. growth to decelerate but still remain above trend next year
We also expect employment growth to accelerate from here as elevated unemployment benefits expire; this is good for the labor market, but may lead to tighter policy sooner than originally expected
The Delta variant is unlikely to cause an alarming rise in hospitalizations or deaths in the developed world, but we do see cases ultimately rising in the U.S. and Europe nonetheless; we see the U.S. as more insulated due to a higher proportion of the population receiving two vaccine doses
We are monitoring the following downside scenarios closely: 1) Persistent rather than transitory inflation; 2) Geopolitical risks with China as the Biden administration has proved more hawkish than expected; 3) Delta variant; 4) Rising corporate tax rates and regulation; 5) Overly hawkish Fed; 6) Regulatory risk with Big Tech·
Tactical Asset Allocation & Market Themes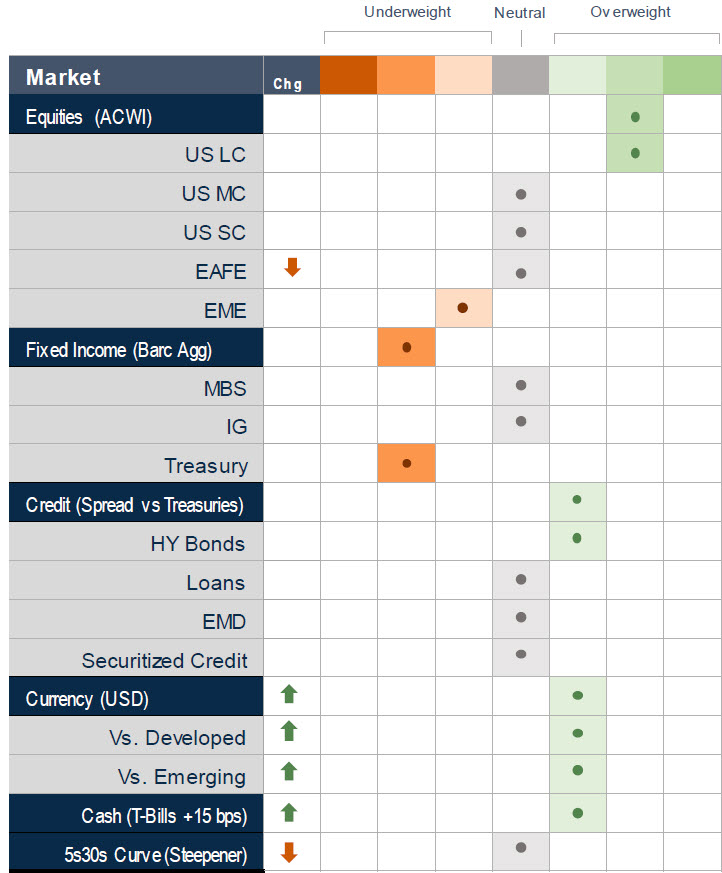 Equity Markets
· We retain our equity overweight position in the context of peak growth as our business cycle indicators currently point to strong GDP growth levels, particularly in the U.S. and Europe, along with very low recession risk. Although GDP growth levels continue to look attractive, we now forecast GDP growth deceleration from here as we anticipate Real GDP in the U.S. to fall from +8.0% year-over-year in Q4 of 2021 to +4.0% in Q4 of 2022. This growth deceleration coupled with a Low Risk Expansion officially transitions us to a "Low Risk Expansion with Decelerating Growth" which is generally favorable for equities, but much more favorable for long duration growth equities relative to cyclical value equities.
· Our equity risk premia model currently forecasts high single digit returns over the next 12 months for the S&P 500 based on a 10-year UST yield of 1.75%; if we assume the yield is closer to 1.50% then our expected return increases to ~10.0%.
· We retain our overweight view for U.S. large cap, remain underweight emerging markets (EM), and downgrade EAFE to neutral as leading indicators have now caught up to the U.S. We have also closed our overweight on cyclical value as growth stocks look attractive on free cash flow and perform better in a decelerating growth regime.
Fixed Income
· We retain our underweight position on duration although we do believe the recent decline in interest rates and bull flattening of the curve is a rational response to the unexpected hawkish shift from the Federal Reserve. The Fed's hawkish pivot reaffirmed to the market that the Fed will lean against inflation to bring long run prices to a 2.0% growth rate, despite markets previously expecting long run prices to grow closer to 2.5%. The Fed also informed market participants that recent "transitory" inflationary pressures will indeed count towards average price targeting. Short rates moved higher to reflect earlier rate hikes, long rates moved lower to reflect lower longer term inflation expectations and a lower terminal Fed Funds rate.
· We no longer believe that curve steepening will follow past recovery precedent due to the Fed's hawkish pivot and think structural disinflationary pressures from last cycle will become more of a headwind over time. With that said, we still see scope for real rates to rise from current levels as the Fed ultimately moves on tapering QE. We do not view duration as attractive at current yield levels.
Credit Markets
· We maintain our small overweight to credit and U.S. high yield but do not view further spread tightening as likely from here. We think carry remains the primary source of return for the asset class with U.S. high yield priced to deliver low single digit returns above duration matched treasuries. While we prefer credit to duration, we have a stronger preference for cyclical risk in equities relative to credit due to earnings growth leverage. We see a stronger USD due to incrementally tighter Fed policy which will act as a headwind to EMD.
Asset Allocation Views, In Summary…


Sources: Top Left: Harbor MAST Business Cycle Indices (BCI), as of June 2021; Top Right: Harbor MAST US Fundamental Real GDP Forecast; Bloomberg, as of June 2021; Bottom Left: Harbor MAST Five States Model, Harbor MAST BCI Index and Real GDP Growth Forecast, as of June 2021; Bottom Right: Harbor MAST Business Cycle Indices (BCI), as of June 2021


Sources: Top Left: CDC, Statista, Our World in Data, June 2021; Top Right: Harbor MAST, Bloomberg as of June 2021; Bottom Left: Harbor MAST, Bloomberg as of June 2021; Bottom Right: Harbor MAST, Bloomberg as of June 2021



Sources: Harbor MAST, Bloomberg as of June 2021

What Keeps Us Up at Night…
Rising Corporate Taxes and Regulation
Democrat leadership has signaled a desire to raise corporate, personal and dividend/capital gains tax rates; there has even been discussion of implementing a new wealth tax. These actions would be fiscally restrictive all else equal, and a higher corporate tax rate would affect the value ascribed to U.S. equities.
COVID-19 Variants
As different COVID mutations evolve and form into variant strains of the virus, there is a risk that mortality rises, vaccines become less efficacious, and societies shut down again as new booster shots are formulated to address the new variants. We are currently seeing elevated risk here with the COVID Delta Variant. This risk is more pronounced in Emerging Markets and Japan where vaccinations are less prevalent, but also Europe where single dose jabs have been more common than two dose jabs. Single dose jabs have been shown to be less effective at preventing symptomatic infection, although still effective at preventing severe outcomes (hospitalizations/mortality).
Vaccine Adoption and Success
We expect the majority of adults in the U.S. to be vaccinated by the summer and in Europe by summer's end. There is a risk, however, that a sufficiently large part of the population chooses to avoid vaccinations and therefore prevent societies from fully reopening. This is also a risk in Emerging Markets and Japan where vaccination rates are far behind the U.S., UK and Europe.
Inflation and Rising Rates
With strong above trend growth already in the works for 2021 along with massive fiscal stimulus, it is possible that inflation rises faster than the market currently expects. This could cause the Fed to act sooner rather than later, both in terms of pulling back on QE but also in terms of signaling a higher Fed Funds rate through the dot plot trajectory.
Fed Mistake
If the Fed chooses to pull back on stimulus too quickly - or send a signal that its stimulus and inflationary posture may last shorter than the market expects - it could lead to volatility in rates markets that may then spill over into other asset classes.
Regulatory Risk with Big Tech
The Justice Department has ramped up its Google probe; given the size of Big Tech and their concentration in passive indices, this could have a significant impact on markets.
Legal Notices & Disclosures
The views expressed herein are those of the Harbor Multi Asset Solutions Team at the time the comments were made. They may not be reflective of their current opinions, are subject to change without prior notice, and should not be considered investment advice. These views are not necessarily those of the Harbor Investment Team and should not be construed as such. The information provided is for informational purposes only.​
Past performance is no guarantee of future results.​
The information shown relates to the past. Past performance is not a guide to the future. The value of an investment can go down as well as up. Investing involves risks including loss of principal.​
All investments are subject to market risk, including the possible loss of principal. Stock prices can fall because of weakness in the broad market, a particular industry, or specific holdings. Bonds may decline in response to rising interest rates, a credit rating downgrade or failure of the issue to make timely payments of interest or principal. International investments can be riskier than U.S. investments due to the adverse affects of currency exchange rates, differences in market structure and liquidity, as well as specific country, regional, and economic developments. These risks are generally greater for investments in emerging markets. ​
Fixed income securities fluctuate in price in response to various factors, including changes in interest rates, changes in market conditions and issuer-specific events, and the value of an investment may go down. This means potential to lose money.​
As interest rates rise, the values of fixed income securities are likely to decrease and reduce the value of a portfolio. Securities with longer durations tend to be more sensitive to changes in interest rates and are usually more volatile than securities with shorter durations. Interest rates in the U.S. are near historic lows, which may increase exposure to risks associated with rising rates. Additionally, rising interest rates may lead to increased redemptions, increased volatility and decreased liquidity in the fixed income markets.​
Harbor MAST BCI Index Sources: Harbor MAST, Bloomberg, Institute of Supply Management, Federal Reserve, Bureau of Labor Statistics, Commodity Research Bureau, National Federation of Independent Business (NFIB), Caixin, European Commission, Japan Machine Tool Builder's Association, Association of American Railroads, American Iron and Steel Institute, Department of Labor, Conference Board, University of Michigan, Redbook Research, National Association of Homebuilders, Mortgage Bankers Association​
Harbor MAST BCI and Rate of Change Index Sources: Harbor MAST, Bloomberg, Institute of Supply Management, Federal Reserve, Bureau of Labor Statistics, Commodity Research Bureau, National Federation of Independent Business (NFIB), Caixin, European Commission, Japan Machine Tool Builder's Association, Association of American Railroads, American Iron and Steel Institute, Department of Labor, Conference Board, University of Michigan, Redbook Research, National Association of Homebuilders, Mortgage Bankers Association